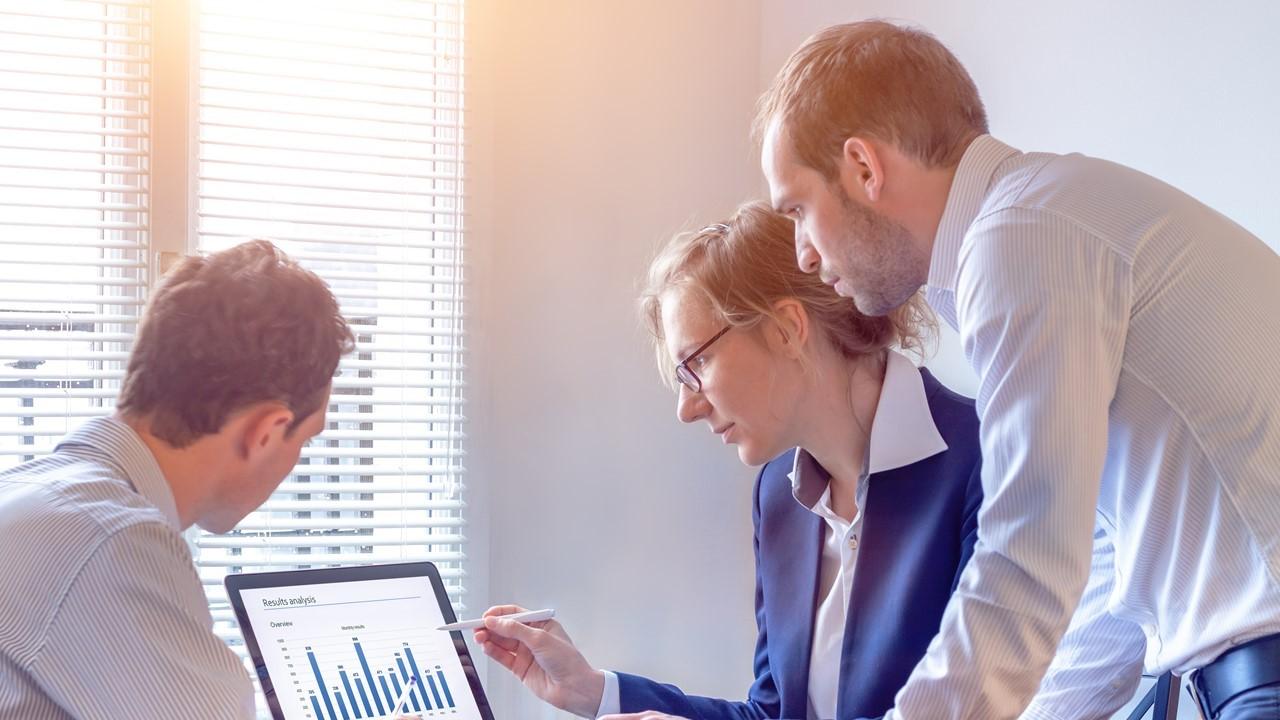 Best Commodity Stocks to Buy in 2021 Amid the Economic Recovery
By Mohit Oberoi, CFA

Jan. 15 2021, Updated 11:41 a.m. ET
Commodity markets had a good year in 2020. There was a sharp fall in some commodities, especially those that have industrial use, in the first half of the year. However, commodities rallied sharply thereafter. After a strong 2020, some of the commodity stocks still look like a good buy in 2021.
Article continues below advertisement
It's important to remember that commodity stocks are cyclical in nature. In an economic upcycle, commodity stocks can deliver good returns. However, commodity stocks are among the worst-performing sectors in an economic downturn.
Article continues below advertisement
What are commodity stocks
Commodity stocks are the stocks of companies that produce commodities. Now, commodities by themselves aren't a homogenous term. They include several groups like agri commodities, industrial metals, precious metals, and energy commodities. All of these commodities have different value drivers and risk-return trade-offs. 
Best commodity stocks
Before looking at the best commodity stocks, it's important to look at the outlook for different commodities based on the economic environment. The economic recovery that started after the slump in 2020 is expected to continue in 2021. President-elect Joe Biden has vowed more stimulus to lift the U.S. economy. An additional stimulus would lift the demand for commodities and lead to positive sentiments in the commodity markets.
Article continues below advertisement
The outlook looks positive for industrial metals and energy commodities in 2021. Within these sectors, the following stocks look like good buys.
U.S. Steel Corporation (X)
Cleveland-Cliffs (CLF)
Freeport-McMoRan (FCX)
Alcoa (AA)
ExxonMobil (XOM)
BP (BP)
Why do industrial metal stocks look like good buys in 2021?
Article continues below advertisement
The Biden administration is expected to push for more infrastructure investments, which would increase the demand for metals like steel, aluminum, and copper. Copper is also a good way to play the green energy theme. Renewable energy generation and electric vehicles have a higher copper intensity compared to non-renewable energy and internal combustion engine cars, respectively.
In the steel space, U.S. Steel Corporation and Cleveland-Cliffs look like good buys. Steel prices in the U.S. are trading near their multi-year highs and might continue to hold their ground in 2021. Higher steel prices and a structural increase in earnings would benefit U.S. Steel Corporation stock in 2021.
Article continues below advertisement
Freeport-McMoRan is the largest publicly traded copper miner. Along with higher copper prices, Freeport-McMoRan would benefit from the ramp-up of its Grasberg mine, which is its largest and most profitable mine. 
Article continues below advertisement
Alcoa also looks like a good commodity stock to buy in 2021. Aluminum prices are expected to continue their uptrend. The company has taken several measures to address legacy issues like high pension liabilities. Also, Alcoa has been shutting down unprofitable plants. These measures would add long-term shareholder value.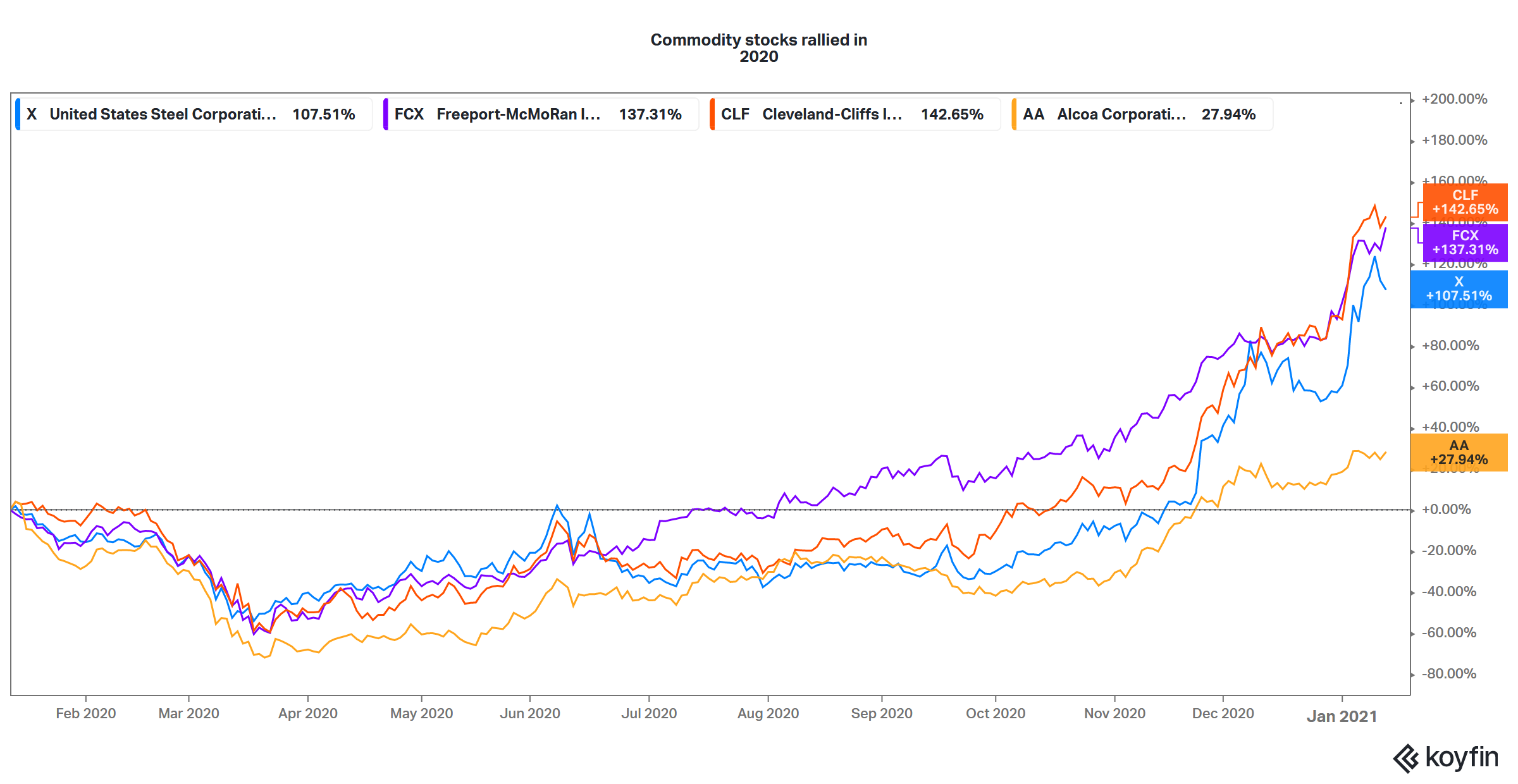 Article continues below advertisement
Energy prices are also expected to strengthen in 2021 as the economic recovery gains pace. Higher crude oil prices would be positive for oil companies like ExxonMobil and BP. After being among the worst performers in 2020, energy commodity stocks could be good bets in 2021.
How to buy commodity stocks
You can buy commodity stocks through any of the brokers. You can trade in the underlying commodities. Individuals can also invest in an ETF that invests in commodity stocks.
Outlook for commodity stocks
With ample global liquidity and low-interest rates, commodities will likely continue to see fund inflows, which would be positive for the sector. Economic recovery and continued fiscal stimulus across the world are also positive for commodities. The outlook for commodities looks positive in 2021. Since commodity stocks tend to follow the price movement of underlying commodities, they also look like good buys in 2021.