Nikola's (NKLA) Stock Forecast After the Bosch Fuel Cell Deal
By Mohit Oberoi, CFA

Sep. 2 2021, Published 11:06 a.m. ET
Nikola (NKLA) stock has come down sharply from its peaks. The stock was trading higher in the early price action on Sept. 2 after the company announced a partnership with Bosch for manufacturing fuel cells. What's the forecast for NKLA stock and what will the deal with Bosch mean for investors?
Article continues below advertisement
Nikola stock has been very volatile over the last year. There have been high points including when its market cap soared above that of Ford Motors. General Motors also announced a partnership and investment with the company. However, Nikola investors have had little to cheer about for almost a year now.
Why has Nikola stock been falling?
The company's woes started when Hindenburg Research accused it of fraud. As a fallout of those allegations, Nikola's founder Trevor Milton had to quit and GM scaled back its partnership with the company.
Article continues below advertisement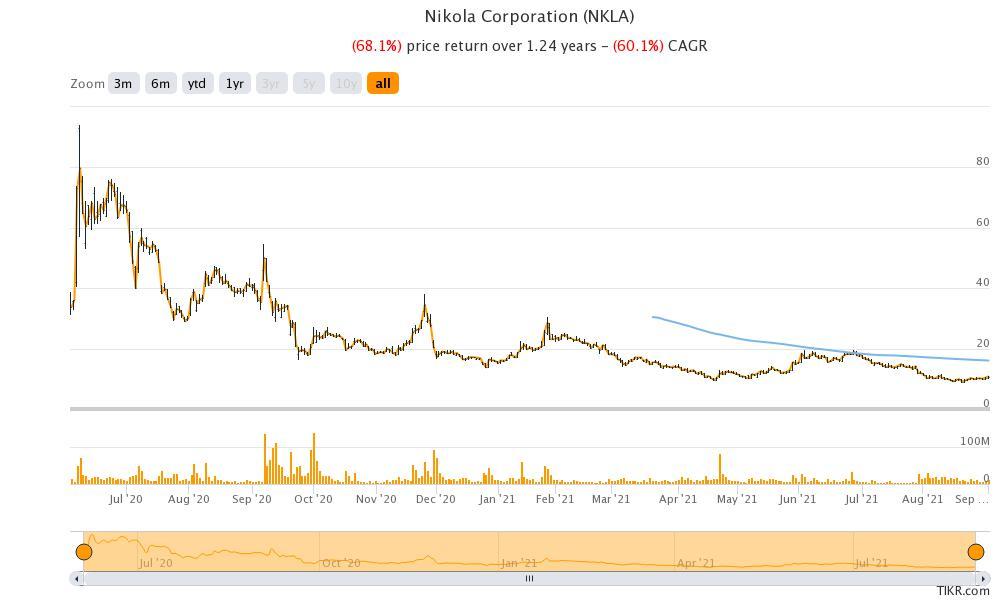 The woes didn't end and the stock saw selling pressure amid the sell-off in EV (electric vehicle) and growth names. When the macro environment stabilized, the news of Milton's indictment on three charges of criminal counts added to the gloom.
Article continues below advertisement
In August, the company lowered the delivery and revenue guidance. Nikola said that it would be able to deliver between 25 and 50 cars in 2021 compared to the previous guidance of between 50 and 100 vehicles. It also lowered the revenue guidance to $0–$7.5 million versus the previous guidance of $15 million–$30 million. Faltering on the execution part isn't something that markets take very kindly to.
Nikola and Bosch deal
As part of the deal, Bosch will supply key components as well as fully assembled fuel-cell power modules, which Nikola will assemble at the Coolidge facility. The company expects to launch the fuel cell modules in 2023. The module would be first used in Class 8 regional-haul Nikola Tre FCEV (fuel-cell electric model) and the company expects it to have a range of 500 miles.
Article continues below advertisement
Nikola said that it "plans to further expand capacity for use in the Class 8 long-haul Nikola Two FCEV with an anticipated range of up to approximately 900 miles."
Article continues below advertisement
What would the Bosch deal mean for Nikola?
Partnership with a reputed company like Bosch is a positive development for Nikola. However, given the dismal record on execution so far, markets will be wary of the tall projections made by the company.
Article continues below advertisement
Nikola stock forecast
Nikola has received a buy rating from only three of the 12 analysts polled by CNN Business, while seven rate it as a hold. Two analysts have a sell rating on NKLA stock. Its median target price of $15 is a premium of over 32 percent, while the street high target price of $25 implies an upside of 120 percent over the next 12 months.
Should you buy Nikola stock after the Bosch deal?
The deal with Bosch has helped buoy sentiments. However, it doesn't fix the company's short-term issues. It has to deliver vehicles that can make their mark in what would be a crowded market for electric cars. Several of the EV companies have faced production hiccups and even Tesla experienced manufacturing troubles.
Nikola has a market cap of less than $5 billion. To put that in context, Lucid Motors, which is also a pre-revenue EV company like Nikola, has a market cap of around $30 billion. If Nikola can deliver on the execution part, the stock could be a multibagger. However, that's a big "if." If the company continues to falter, markets will lose their patience with the stock.