MicroVision (MVIS) Stock Forecast: Will Microsoft Buy the Company?
MicroVision (MVIS) stock soared over 50 percent on March 31, but it was trading lower in pre-market trading on April 1. The stock is up 244 percent YTD and is among the biggest gainers in the year. There are rumors that big tech companies including Apple and Microsoft might be interested in buying MVIS. What's the forecast for MVIS stock? Is it a good stock to buy?
Article continues below advertisement
Let's start by looking at why MVIS stock soared on March 31. Microsoft has won a $22 billion contract from the U.S. Army to supply augmented reality headsets. The product will be based on Microsoft's HoloLens headset. MicroVision is believed to be a supplier for the HoloLens.
MVIS stock news
MicroVision stock rising when Microsoft received the contract from the U.S. Army has a sense of déjà vu to it. Investors will recall that late last year, MVIS and other lidar stocks rallied amid reports that Apple plans to have its electric car ready by the middle of this decade. Previously, there were rumors that Apple would buyout MicroVision due to its lidar technology.
Article continues below advertisement
Will Microsoft acquire MicroVision?
Now, there are rumors that Microsoft will buy MVIS. Of course, these are just rumors floating on platforms like Stocktwits and Reddit. While MicroVision or for that matter Apple and Microsoft haven't commented on the rumors, during the most recent earnings call, MicroVision management shared their thoughts on it getting bought.
Article continues below advertisement
The company talked about consolidation in the lidar industry and pointed to the over 100 players. MicroVision CEO Sumit Sharma talked about "strategic alternatives." He said, "We are a stand-alone company right now, while we're up for sale."
Big Tech companies are known to buy out small companies and then scale up their operations. Many times, such transactions attract regulatory scrutiny, like Facebook's acquisition of Instagram and WhatsApp for which it's also facing lawsuits.
Article continues below advertisement
MVIS stock forecast
Despite the massive surge in its stock, MVIS is still a small company and not many analysts cover the stock. According to the estimates compiled by CNN Business, only one analyst covers the stock. The analyst has a $0.25 target price on the stock, which is a discount of almost 99 percent over the current prices.
Article continues below advertisement
Looking at the financials, the company posted revenues of $3.1 million in 2020. Its revenues fell 65 percent in the year, which was preceded by a 50 percent fall in 2019 also. Clearly, with such financial performance, it's difficult to build a case for MVIS.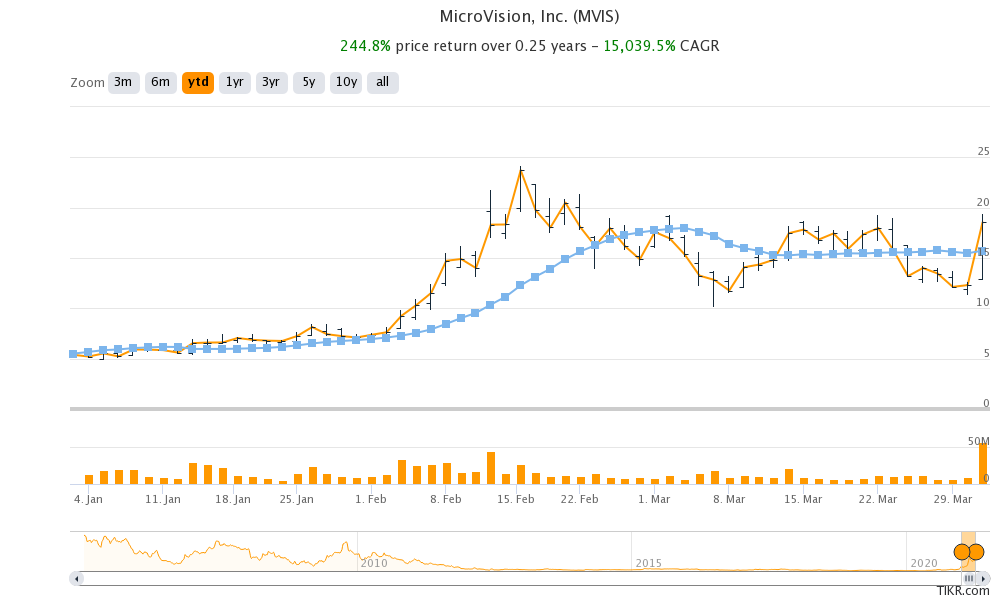 Article continues below advertisement
Will MVIS stock survive?
Not long ago, there were serious concerns about MicroVision's ability to survive. However, the company capitalized on the spike in its stock price and raised cash by selling shares. Now, the company has enough cash to fund its cash burn for the next few years.
It seems like a page from NIO's book. The Chinese electric vehicle maker also survived a bankruptcy scare in 2020. As the stock started to rise, it raised billions of dollars through stock issuance.
Article continues below advertisement
Is MVIS stock a buy or a sell?
MVIS stock trades at an NTM PE multiple of 475x. Even management acknowledged lidar companies' soaring valuations. That said, being a growth company focusing on emerging technologies, we can't value MVIS based on NTM numbers.
Article continues below advertisement
The company is present in some of the most exciting industries and that has markets interested. However, the stock is prone to sharp pullbacks especially as investors have sold off speculative names including many SPACs.
Overall, MVIS is a speculative play on emerging technologies. Investors should brace for volatility in the stock. It has a 52-week range of $0.17–$24.18. Before the spike on March 31, MVIS stock was trading at a discount of almost 50 percent from its 52-week highs.
Meanwhile, those who believed in the company have made a killing amid the sharp rally in MVIS stock. Will investors who buy now reap similar returns? It doesn't look likely.