Is WSB Dead? Here's What Killed the WallStreetBets Mania
We're now into 2022 and U.S. stock markets have looked weak so far. About a year ago, Reddit group WallStreetBets, popularly known as WSB, came into the limelight. Retail traders on the group acted as a cohort and upset the equations for Wall Street biggies by triggering massive short squeezes. A year after the mania, WSB doesn't look like the same potent force that it was at its peak. Many people want to know if WSB is dead.
Article continues below advertisement
Article continues below advertisement
The modus operandi of WSB has been simple. The group targeted beaten-down stocks that had a fundamental story, mostly a turnaround. Also, traders on the group targeted stocks that had a high short interest. Traders on the group cajoled others to buy select stocks that were popular among WSB members.
What made WSB famous?
The buying spree from retail traders led to epic short squeezes in names like AMC Entertainment and GameStop. The typical meme stocks on the group required continuous pumping since not many traders outside the WSB universe were willing to buy these stocks at inflated prices.
Article continues below advertisement
It was all going well until WSB members kept pumping meme stocks. These stocks were trading way above their fundamental value. However, like a Ponzi scheme, the WSB mania required a regular dose of a buying spree.
Article continues below advertisement
Article continues below advertisement
As these stocks started to fall, many retail traders got worried. Forget about paying off mortgages with trading profits, that many traders boasted at the peak of the WSB mania, many traders were sitting on massive losses.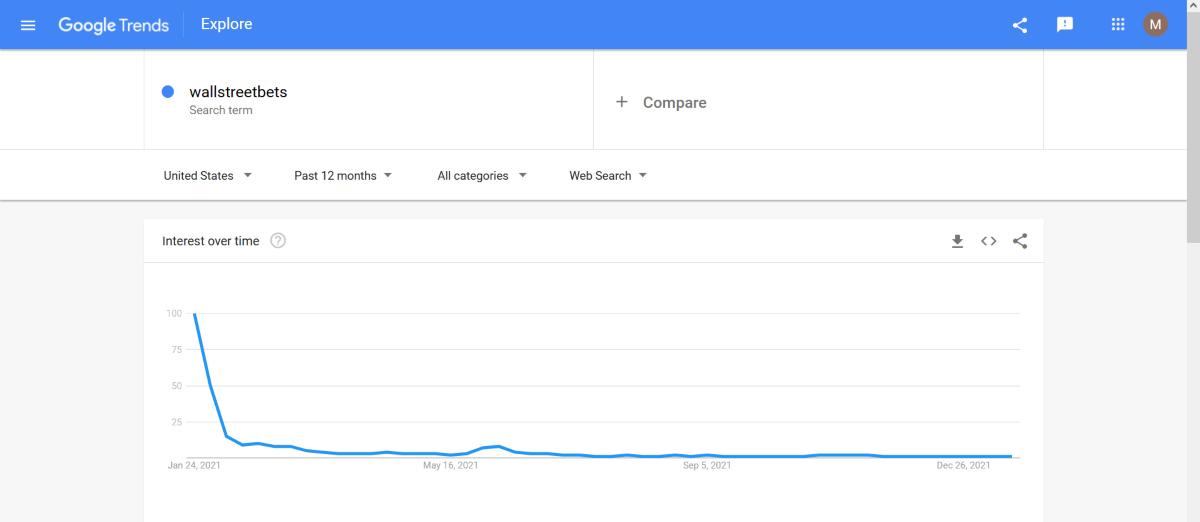 Article continues below advertisement
Is WallStreetBets dead?
WallStreetBets isn't totally dead but it's only a pale shadow of what we saw in the first quarter of 2021. One way to look at the group's dwindling popularity would be to look for Google searches for the group, which have dropped drastically. Unsurprisingly, the searches for "meme stocks" and "short squeezes" have also tumbled.
Article continues below advertisement
What killed the WallStreetBets movement?
WallStreetBets mania was nothing short of a movement. It was heartening to see company management talk directly to retail traders unlike the usual practice of briefing Wall Street analysts. It was a new sort of cooperative capitalism where companies offered perks to retail stockholders.
Article continues below advertisement
However, like all good things, the WSB party also ended and several factors contributed to the demise. First and foremost, the hyper bullish stories that some traders had woven around meme stocks were out of place. There was no way those valuations would be justified and the stocks are only falling towards their fundamental value.
Article continues below advertisement
Article continues below advertisement
Second, the Federal Reserve is going ahead with monetary policy tightening, which is somewhat drying those liquidity taps that were essential for keeping the WSB party going. Third, a lot of traders on WSB have got disillusioned with the pumping after burning their fingers.
Article continues below advertisement
This is similar to a Ponzi or a pyramid scheme where those who enter late get trapped. Finally, given the steep fall in growth stocks, it would make sense to buy beaten-down quality stocks rather than invest in the typical WallStreetBets favorites.
Article continues below advertisement
Should you rule out WSB now?
Usually, retail traders complain that Wall Street is rigged and is biased against them. However, the pumping from WSB members was an example where retail traders trapped fellow retail investors into companies with weak fundamentals.
Overall, the meme stock mania seems to be over for now. However, not all stocks on the group are meme stocks and some are companies with solid fundamentals. While the WSB driven meme stock mania looks dead, the group continues to be alive even if its ability to trigger those short squeezes has widely diminished.