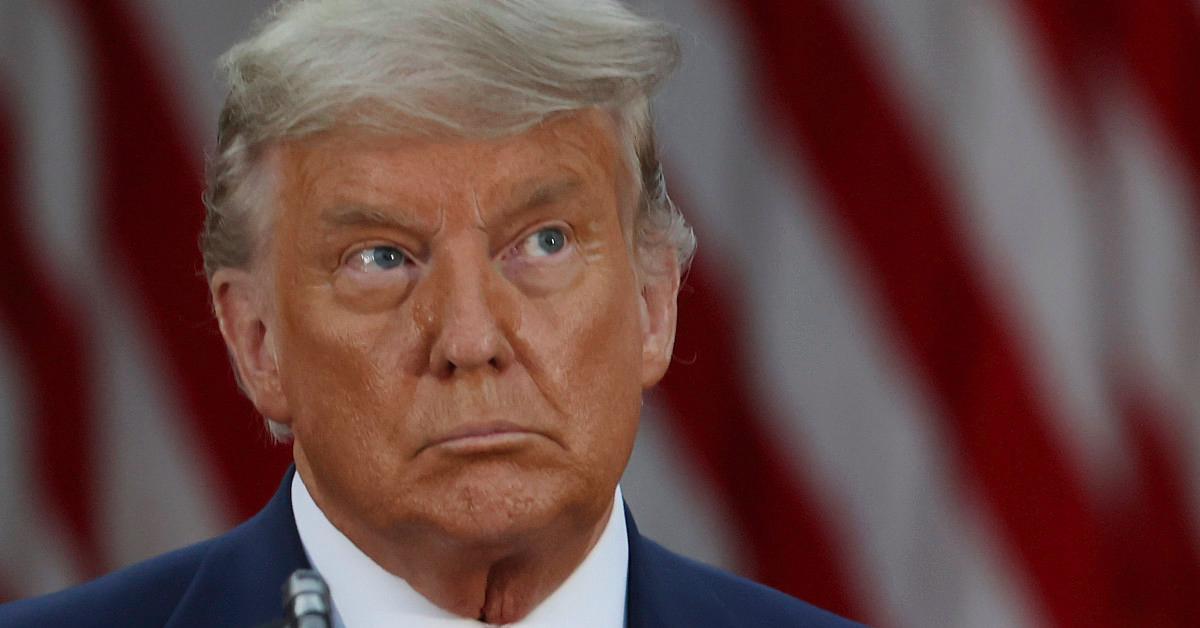 Did Donald Trump Really Send a Phallic Christmas Card This Year?
Funny as it might be, an unseemly Trump Christmas card floating around social media is fake. The card is a graphic-design nightmare, with Donald Trump pictured in front of a backdrop that includes snow-capped trees, a nativity scene, Santa's sleigh, and the North Star. At the top of the card, Trump's family members—minus son Barron Trump—are pictured in tiny Christmas ornaments. And the text reads, "Merry Christmas From The Winter White House, December 2021, President Donald J. Trump."
Article continues below advertisement
Perhaps the most ridiculous part of the design, though, is that the cut of Trump's black tuxedo jacket against his white shirt—and the cut of his white waistcoat against his black slacks—makes it look like his head is the top of a phallic shape. And the positioning of the white silhouette of Santa's sleigh only adds to the NSFW illusion. But Liz Harrington, Trump's spokesperson, told Reuters that the image "is fake and did not come from us."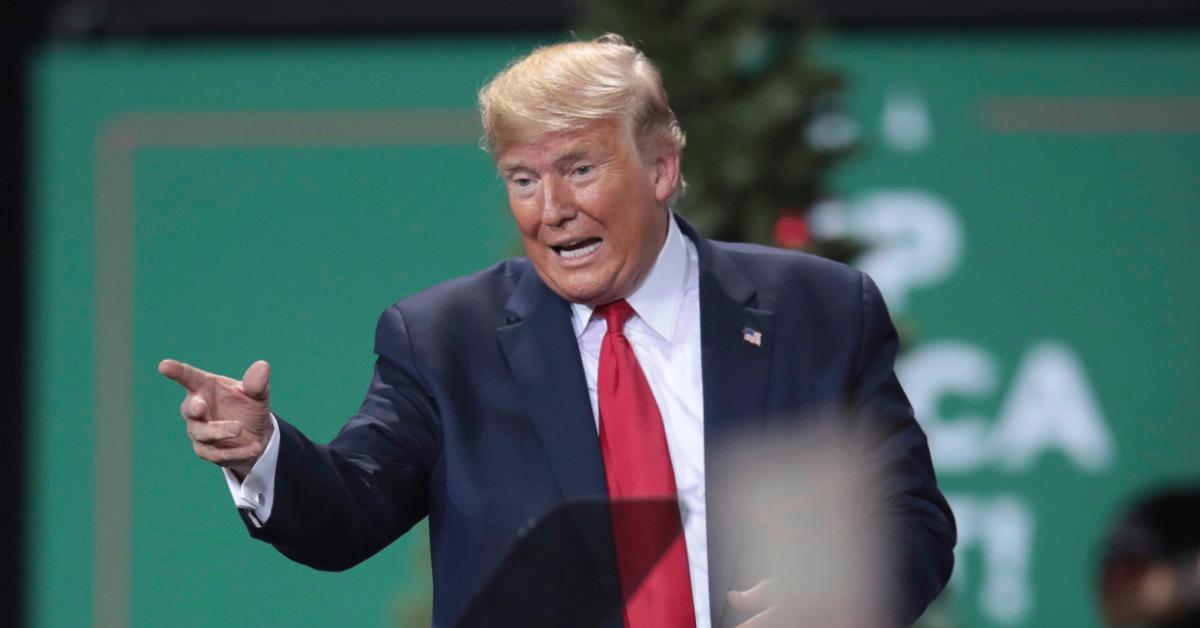 Article continues below advertisement
Twitter users—including verified ones—thought the Christmas card was real
It's unclear where the image originated, but by Dec. 6, influential Twitter users had been duped. Occupy Democrats executive editor Grant Stern shared the image, writing, "No, this is not a parody. Yes, you're seeing what I'm seeing. Absolutely, it is hilarious." Meanwhile, USA Today opinion columnist Michael J. Stern tweeted, "Trump's new Christmas card explains his insanity. There were reindeer scrambling his brain. It appears they have just escaped."
Article continues below advertisement
BBC reporter Shayan Sardarizadeh tweeted on Dec. 6 that other verified accounts were sharing the image, too: "Plenty of blue tick accounts are currently spreading a fake 'Donald Trump Christmas card' … which is so obviously made up." Sardarizadeh also said Trump's real Christmas card is available on the former president's website. That card bears a much more straightforward design, showing Trump standing in front of a twinkling backdrop. It costs $10 for a single card and envelope.
The phallic tuxedo is an altered version of Trump's outfit from a 2019 Buckingham Palace banquet
Before long, those attesting to the Christmas card's authenticity were backtracking. "I got punked by a Twitter trend," Stern tweeted later on Dec. 6, alongside a screenshot of his original post. "So, to stop the trend, I deleted this tweet." Stern also posted a follow-up tweet, writing, "Unsure if the card is real. It's making the rounds. Fun either way."
Article continues below advertisement
Snopes.com clarified on Dec.6 that the phallic Christmas card was fake, pointing out that the photo of Trump comes from a banquet at Buckingham Palace on June 3, 2019, in which Trump and wife Melania posed with Queen Elizabeth II, Prince Charles, and Camilla, Duchess of Cornwall. The original photo makes it clear that the designer of the fake card altered Trump's tuxedo to look more phallic—his jacket and waistcoat have straighter edges than they do on the Christmas card.
Stand-up comic Dan Telfer put the viral image in perspective. "Yes, that Trump Christmas card going around is fake, but let's not let that take away from the fact that, yes, conservative American graphic design is the worst design on the planet," he tweeted.