Is There an Oatly Shortage? Supply Issues, Explained
Oatly, the popular plant-based milk alternative, might have piqued your interest at a local Starbucks or while watching the Super Bowl commercials this year. Oatly makes milk that's essentially oats and water, with a small amount of canola oil added.
Article continues below advertisement
In March, soon after the launch of Oatly's partnership with the ubiquitous coffee chain Starbucks, the chain and supermarkets that sell the product reported Oatly shortages. Grocers around the U.S. reported difficulties keeping Oatly on the shelves. Starbucks alerted customers that Oatly might temporarily not be available in certain locations.
Why Oatly is out of stock
As more people choose a dairy-free lifestyle due to dietary needs or environmental concerns, Oatly and other plant-based milk companies have grown in popularity. Bloomberg reported that oat milk sales at retailers grew by 151 percent in the 52 weeks ending March 13, 2021.
Article continues below advertisement
Customers at Starbucks who depend on the vegan option for their lattes were frustrated by Oatly being out of stock. Oatly is a key ingredient in Starbucks' Honey Oatmilk Latte and Iced Brown Sugar Oatmilk Shaken Espresso. Oatly is also on the Starbucks menu as a dairy alternative for any of its drinks.
Article continues below advertisement
Grocery chains where Oatly is sold reported a lack of supplies as well. For example, the dairy manager at Grand Food Center in Winnetka, Ill. said that he had trouble with Oatly stock for about three months as of March 2021.
The problem with keeping Oatly in stock is reportedly due to delays in the construction of a new manufacturing facility to be built in Ogden, Utah. Issues related to the COVID-19 pandemic led to delays in the facility being able to open and come online. When the facility is completed in the near future, retailers should be able to stock Oatly more easily.
Article continues below advertisement
Bloomberg reported that Oatly also struggled to meet customer demand in 2018. The shortage led to the 2019 construction of a new Oatly facility in New Jersey. The $15 million plant helped Oatly increase production to supply to its partner retailers.
Supply chain disruptions and delays have been a problem for various companies in the plant-based industry. For example, Impossible Foods experienced shortages in 2019 due to its major partnerships with fast-food restaurants, which increased the demand for plant-based burgers.
Article continues below advertisement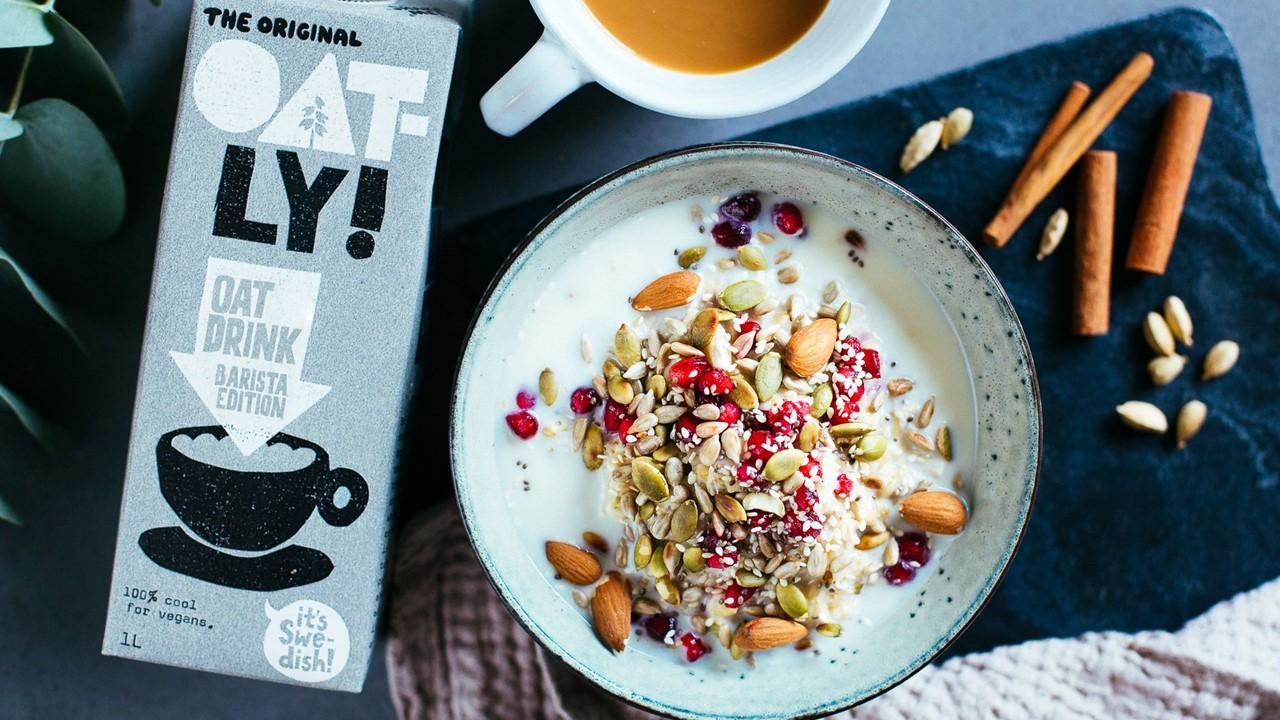 Oatly's 2021 IPO
The dairy-free milk company has been preparing for its American IPO for some time. On May 20, Oatly debuted on the Nasdaq (OTLY) with a $17 share price of ADS (American depositary shares). It's possible that the IPO might impact demand and increase shortages temporarily.
Article continues below advertisement
Oatly offers alternatives to dairy milk, yogurt, and ice cream. The company strives for sustainability in all of its products and processes. Oatly's goal is "to always deliver products that have maximum nutritional value and minimal environmental impact."
The Oatly IPO raised $1.43 billion and gave the company a $10 billion valuation, according to The Wall Street Journal. In 2020, the company sold a $200 million stake to private equity firm Blackstone and celebrity investors like Oprah Winfrey, Howard Schultz, and Jay-Z. Those interested in ethical investments might consider Oatly.