Is Recon Africa a Multi Bagger Stock You Should Buy?
Reconnaissance Energy Africa, also known as Recon Africa, has been on a fire and the stock has gained 2,830 percent over the last year. However, the stock is down 13 percent from its 52-week highs and is in a correction zone. Is Recon Africa (RECAF) stock a good buy now or should you stay away from the company, which was a penny stock not long ago?
Article continues below advertisement
There has been a frenzied rally in penny stocks over the last year but most of them have crashed.
Recon Africa and Namibian oil
Recon Africa has leased 13,000 square miles of land in Namibia and Botswana for oil exploration. The area could have 12 billion barrels of oil with some experts touting the find to be even bigger. With crude oil trading above $60 per barrel, this would mean total reserves of over $72 billion.
Article continues below advertisement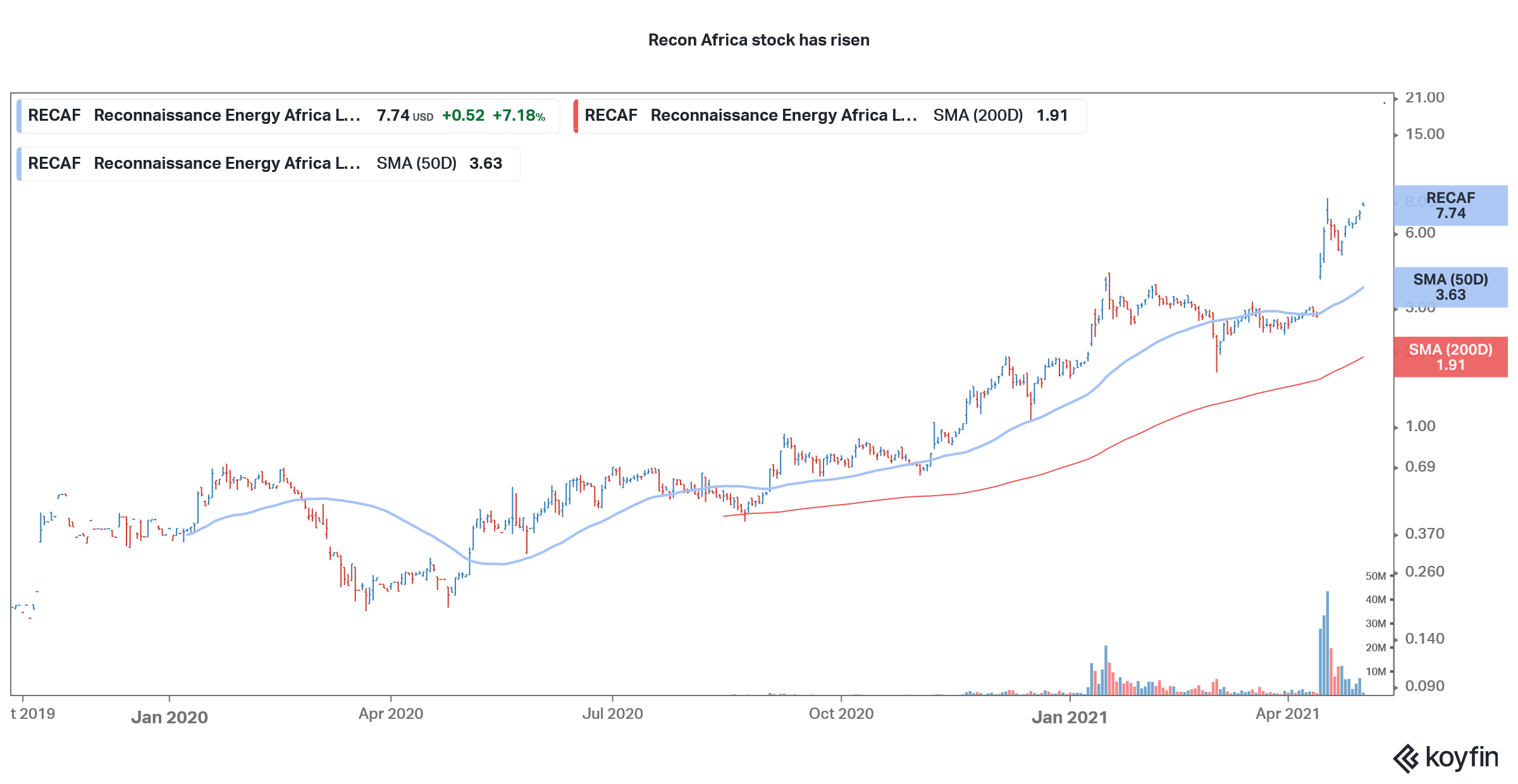 A CNN report is critical and points to the environmental damage from the project. However, it also argues about the potential economic benefits that the region could derive from the oil find, which could spur the region's economic activity.
Article continues below advertisement
What happened to Recon Africa stock?
Recon Africa stock has been going up due to optimism about its oil find. The project is among the biggest oil discoveries. Even though over the long-term global oil demand is expected to fall as countries pivot towards zero-emission vehicles, oil will continue to play a major role in the global energy mix looking at the massive fleet of ICE (internal combustion engine) cars.
Article continues below advertisement
These cars would continue to use oil and keep oil companies' cash registers ringing. Crude oil prices have bounced back smartly from their 2020 lows. We've seen a rally in oil and gas companies, and Recon Africa isn't an exception. The demand-supply equation for global oil markets is probably the best that we've seen in years.
Recon Africa stock forecast
None of the Wall Street analysts seem to be covering Recon Africa stock. The company was a penny stock before it caught the markets' attention and not many analysts cover penny names given the inherent risk in such stocks.
Article continues below advertisement
Buying Recon Africa stock depends on personal preferences.
Recon Africa isn't making any current revenues. It's largely a play on the Namibian oil find, which the company calls Kavango Basin. The project is controversial due to the environmental harm that it's expected to cause. Several funds and individual investors have been shying away from fossil fuel stocks due to the environmental harm that they cause.
Article continues below advertisement
Several miners have been limiting their carbon footprint and exiting the coal business, which is among the dirtiest energy sources. Most of the oil and gas companies have also outlined plans to become carbon neutral and are investing in green energy to diversify their portfolio.
However, if you are comfortable with the environmental hazards that Recon Africa's Kavango Basin might entail, it could be a good stock to buy. However, it's susceptible to a fall after the massive rally over the last year.
Article continues below advertisement
How to buy Recon Africa stock
Recon Africa stock trades on the OTC market under the ticker symbol "RECAF." The daily trading volumes are over a million, so liquidity shouldn't be a problem if you want to buy the stock. Most brokers let you trade on the OTC markets.
Buying Recon Africa stock on Toronto and Frankfurt exchanges
Recon Africa stock is also listed on the Frankfurt and Toronto stock exchanges. You can check with your broker and see if they allow trading in international stocks. Also, you could open a broking account with any of the brokers that allow trading in international stocks.