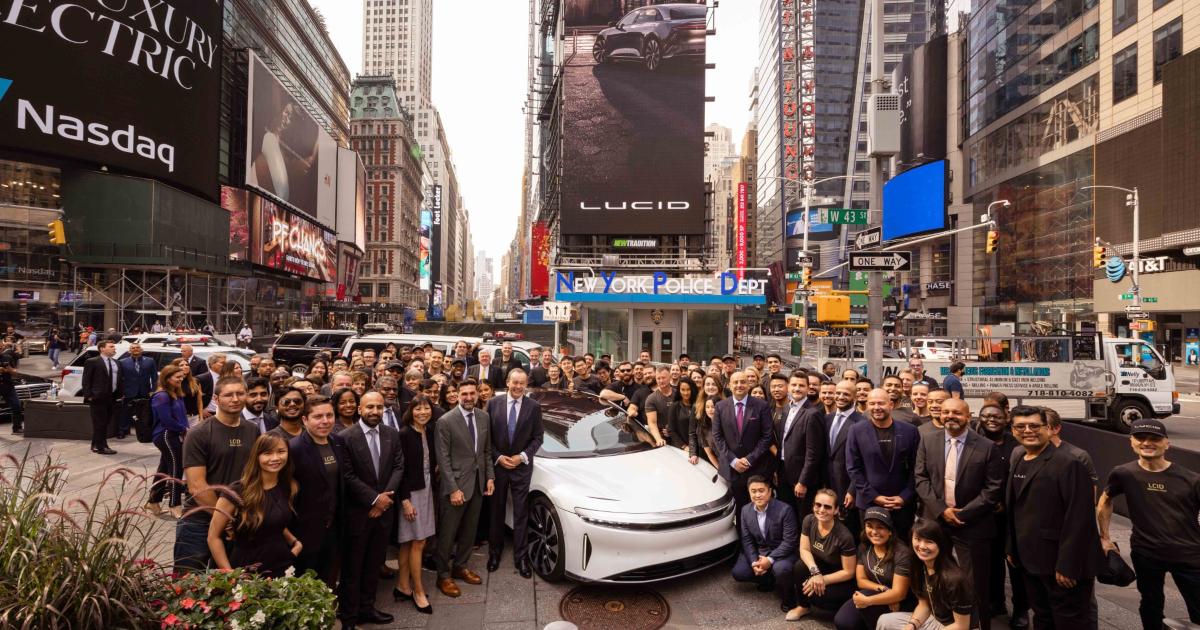 Will Lucid Motors Stock Recover? Here's What Analysts Think
Lucid Motors (LCID), which went public through a reverse merger with Churchill Capital IV (CCIV), has had a turbulent ride. It now trades near $20, below its post-merger high and less than a third of its pre-merger high. Is Lucid Motors stock expected to go up? Here's what Wall Street analysts think.
Article continues below advertisement
Lucid Motors has yet to deliver its first vehicle but still commands a market cap of over $32 billion. Despite EV (electric vehicle) stocks' recent sell-off, they're valued at a massive premium to legacy automakers.
Lucid Motors' production preview
Lucid Motors is set to hold a week-long production preview for its Lucid Air, starting Sep. 27. The event, open to media members, policymakers, and a select group of customers, will showcase the company's assembly process. The company plans to soon begin delivering the Air sedan, which will be pitted against the Tesla Model S Plaid.
Article continues below advertisement
There are several similarities between Tesla and Lucid Motors, including their approach to manufacturing. Whereas NIO and Fisker outsource their manufacturing and focus on R&D, Tesla and Lucid Motors are building vehicles at their own plants.
Article continues below advertisement
Lucid Motors' target price
Citi, the first brokerage to initiate coverage of LCID stock, has assigned it a "buy" rating and a $28 target price. The brokerage thinks Lucid Motors is a risky investment and faces execution risk. It doesn't see Lucid as the "next Tesla."
Article continues below advertisement
CFRA analyst Garrett Nelson also initiated coverage of Lucid Motors stock with a "buy" rating. His target price for LCID is $25. Like Citi, Nelson thinks the road is bumpy for Lucid Motors. However, he's impressed with Lucid Air's product proposition.
Why is LCID stock dropping today?
Morgan Stanley analyst Adam Jones has initiated coverage of LCID with an "underweight" rating. Following that bearish note, LCID was trading lower on Sep. 14. Jonas is a known Tesla bull, and in Jan 2021, his target price for TSLA was among the highest.
Article continues below advertisement
Adam Jonas on Lucid Motors stock
"We have been looking increasingly closer at a range of start-up players in the EV space and have increased conviction that Tesla's technological position and business model is the right one for this once-in-a-generation transition to sustainable transport," Jonas said in Jan. 2021. Jonas is also bullish on Fisker stock.
Article continues below advertisement
Is Lucid Motors stock undervalued?
Green energy stocks, including EV names, have been under pressure in 2021. Even with the Biden administration's measures to pivot toward green energy, fuel cell stocks have fallen hard. It's worth noting, however, that EV stocks still aren't cheap, and Lucid Motors doesn't look overvalued.
Is Lucid Motors stock expected to go up?
Lucid Motors stock could go up after it showcases its assembly line at its Sep. 2021 event. The markets' reaction to its Air sedan will also be a key driver for the stock. The specifications look good and if the model is received well by buyers when it finally hits the road, LCID stock could soar.