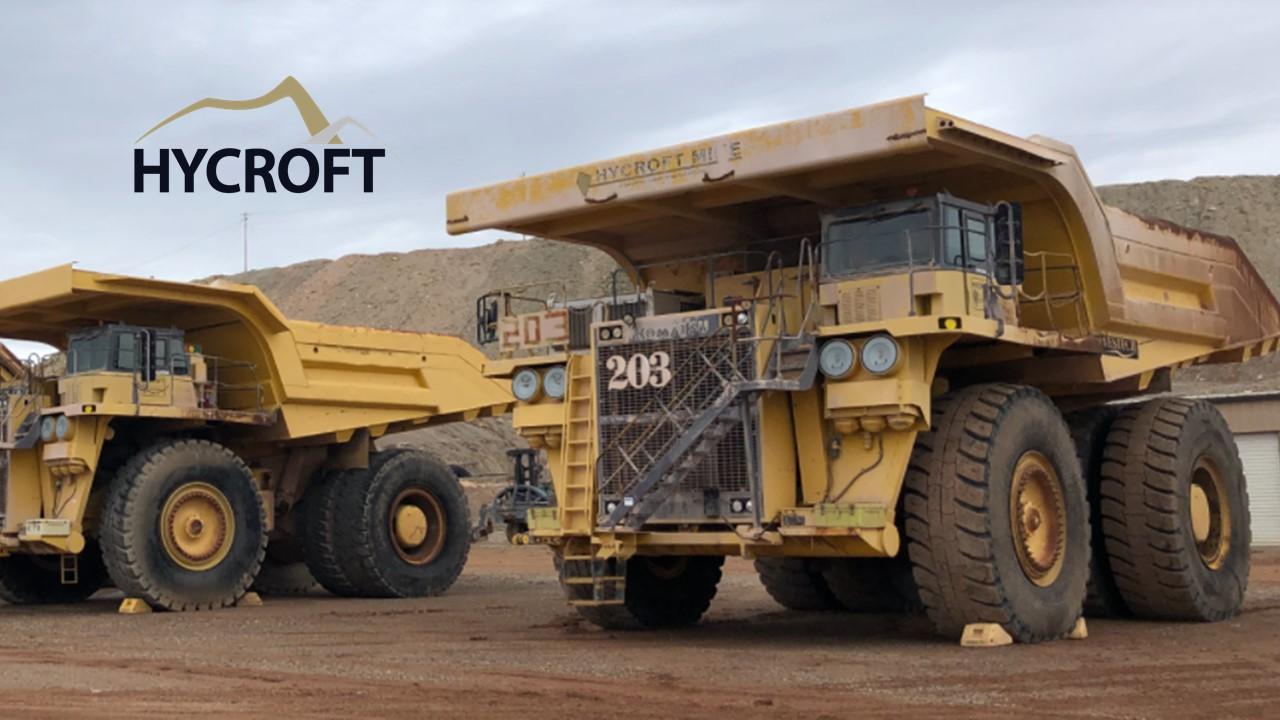 HYMC Stock Forecast: Is Hycroft Mining a Good Gold Stock to Buy?
By Mohit Oberoi, CFA

Mar. 9 2022, Published 8:41 a.m. ET
While stock markets globally have plummeted after Russia invaded Ukraine, commodities, ranging from energy, base metals, precious metals, and agricultural goods have spiked. Penny gold mining company Hycroft Mining (HYMC) more than tripled on March 8. What's happening with HYMC stock and does its forecast warrant a buy?
Article continues below advertisement
HYMC isn't the only commodity play that's seeing frenzied buying. TMC The Metals Company, Polymet Mining, and Enservco are among the biggest gainers.
What happened with HYMC stock?
HYMC stock closed at $0.3297 on March 7, which wasn't far from its 52-week lows of $0.2840. The stock opened sharply higher on March 8 at $1.13. It went on to hit an intraday high of $1.39 but eventually closed the day at $1, which was 203 percent higher than its previous closing.
Article continues below advertisement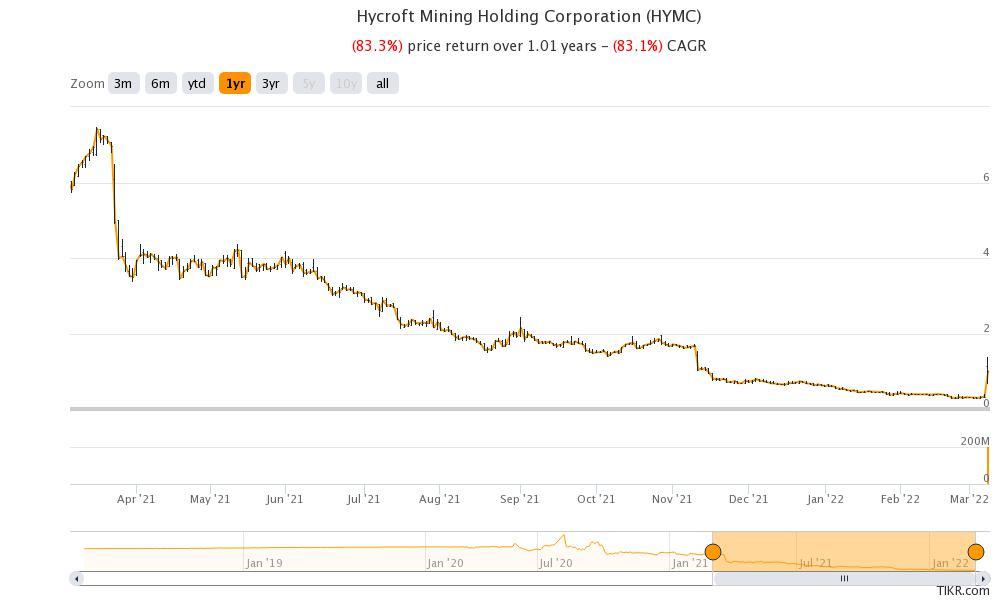 Despite the massive surge, HYMC is in the red in 2022. The stock still trades at a massive discount to its 52-week high prices of $7.47. There wasn't any news from the company and the price action has been a result of buying spree from investors.
Article continues below advertisement
HYMC stock isn't popular on WallStreetBets.
Whenever a stock sees a massive spike that has some element of a short squeeze to it, it's natural to look out for a WallStreetBets connection. HYMC isn't among the top trending names on WallStreetBets right now. It isn't among the top trending stocks on Stocktwits either.
Article continues below advertisement
There isn't a short squeeze in HYMC stock.
Looking at the short borrow fee in HYMC stock, there isn't a major short squeeze either. That said, there has been an epic short squeeze in nickel. Russian company Norilsk is the world's largest nickel producer and there are concerns over continued metal exports from Russia. The short squeeze frenzy pushed nickel to an all-time high, prompting the London Stock Exchange to halt trading.
Why is HYMC stock going up?
The rise in HYMC stock is being driven by the spike in gold prices. HYMC is a penny gold stock and generally smaller gold mining companies have higher leverage and sensitivity to gold prices than their larger peers.
Article continues below advertisement
Hycroft Mining has vast mineral resources.
In February, Hycroft Mining released its preliminary results for 2021. It produced 55,688 ounces of gold in the year, which was higher than its guidance. However, its silver production was 355,967 ounces in the year, which was way below the 450,000–500,000 ounces that it had guided for.
Article continues below advertisement
HYMC has a measured gold equivalent mineral reserve of 15.3 million ounces and another 6.9 million ounces in the inferred category. These reserves are based on multiple factors including gold prices and mining costs and are liable to change based on the changes in these variables.
Article continues below advertisement
What's the price forecast for Hycroft Mining stock?
Hycroft Mining is developing the Hycroft mine in Nevada. The massive gold resources that HYMC is touting might seem out of sync with the company's depressed stock price.
Commenting on the stock's price action, Hycroft Mining CEO Diane Garrett said in the most recent earnings release "in our opinion, our share price does not reflect the underlying value of this asset, which is one of the world's largest gold and silver deposits."
Article continues below advertisement
She also said, "What our share price does reflect is the balance sheet burdened by too much debt." There's a lot of debt on the company's balance sheet and the long-term debt of $146 million is way above the stock's market cap of around $60 million. HYMC is working on what it called a "cleaner capital structure" but said that it would share the details later.
Article continues below advertisement
HYMC stock is a high-risk bet.
HYMC stock is a high-risk bet. The company has to significantly expand the mining activity and also address the balance sheet issues. If you're a risk-averse investor and want to invest in gold, you might be better off in a physical gold ETF or a gold mining ETF.
However, if you're fine with high risk and volatility, HYMC might be for you. That said, it would be prudent to wait before entering the stock as it looks set to pare its gains that at best were speculative.