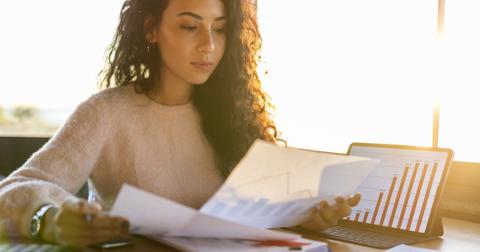 Should You Buy GSAH Stock on Merger Rumors?
By Anuradha Garg

Apr. 7 2021, Published 9:48 a.m. ET
Article continues below advertisement
The GSAH SPAC went public in June 2020 by raising more than $700 million. It's backed by banking giant Goldman Sachs and led by chief executive Tom Knott and chairman Raanan Agus.
Why GSAH stock is rising
Overall, GSAH stock has been falling along with other names. It hit a high of $15 on Feb. 19 and has lost 28 percent since then. The stock has seen positive price action lately. On April 6, the stock closed up by 3.5 percent after experiencing higher volatility during the day. The latest price action has to do with a rumor on social media about the SPAC's potential merger target.
Article continues below advertisement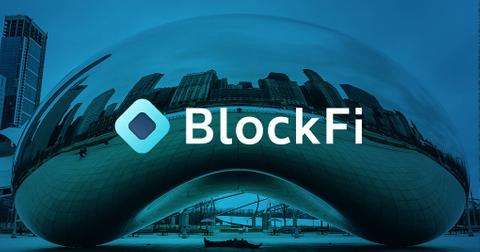 GSAH's merger target
Many top-tier SPACs were trading at very high valuations even before they identify a merger target. Chamath Palihapitiya's IPOD and IPOF fell into that category. However, a rotation away from growth and high-risk stocks in general and accusations surrounding Clover Health and Palihapitiya led to a huge decline in these SPAC stocks. 
Article continues below advertisement
Similarly, GSAH was trading at a premium of 50 percent to its IPO price at one point in February. The company hasn't officially identified a merger target yet. There have been many rumors about potential merger targets. Many users on stock forums have speculated about eToro, Sportradar, and Flipkart being the merger targets. The latest rumors speculate that the target might be BlockFi. 
According to the company's S-1 filing, it's aiming at "diversified industrial, healthcare, technology, media and telecom, and alternative asset management sectors" to merge with. The category of the merger target is broad.
Article continues below advertisement
GSAH merging with BlockFi is just a rumor for now.
The information is just a rumor until a deal is confirmed by at least one of the companies. BlockFi is looking to go public and it might prefer a faster SPAC route than a traditional IPO. BlockFi CEO Zac Prince previously said, "The selling point of a SPAC is speed and there could be a scenario where based on what is going on in the crypto market this could be a very valuable way to go public." 
Goldman Sachs has detected a huge institutional demand for bitcoin and might try to go for a merger target in this space. However, BlockFi being GSAH's merger target is still a speculation. 
GSAH short interest
According to Koyfin, the short interest in GSAH is just 1.2 percent currently, which implies less than a day to cover the short position. The short interest is very low in the stock and there isn't a chance for a short squeeze in the stock.
Article continues below advertisement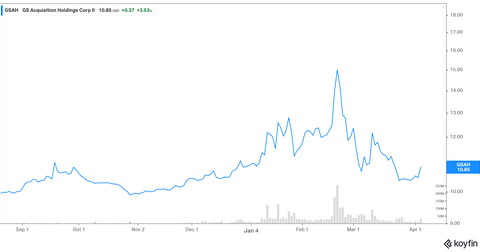 Buy GSAH stock before its merger date.
GSAH stock is trading at just a 9 percent premium to its IPO price of $10. The SPAC is backed by renowned investors. Goldman Sachs's first SPAC acquired data-center solutions provider Vertiv Holdings (VRT) in February 2020. VRT has returned about 82 percent over the last year. Therefore, the SPAC has significant credibility. At the current price, the downside is limited for the SPAC stock. So, it might be a good bet to buy GSAH stock before the merger date.