GNUS Stock Forecast: Can It Help Pay Off Student Loans or Mortgages?
By Mohit Oberoi, CFA

Mar. 24 2021, Published 11:57 a.m. ET
There has been a frenzied rally in some stocks pumped by the Reddit group WallStreetBets. Genius Brands is among those stocks,. It's currently up nearly 750 percent over the last year and has almost doubled this year. Looking at the forecast for GNUS stock?, it it a good long-term investment or a speculative bet?
Article continues below advertisement
Genius Brands is a children's media company that creates and licenses animated programs for children. The stock was trading almost 15 percent higher in early trading on Mar. 23 while the S&P 500 was just about 0.40 percent higher.
Why is GNUS stock rising?
Earlier this month, Andy Heyward, the CEO of Genius Brands, issued a shareholder letter. Among other things, he said that, before the end of this month, the company would announce a deal with Marvel, a Disney subsidiary.
Article continues below advertisement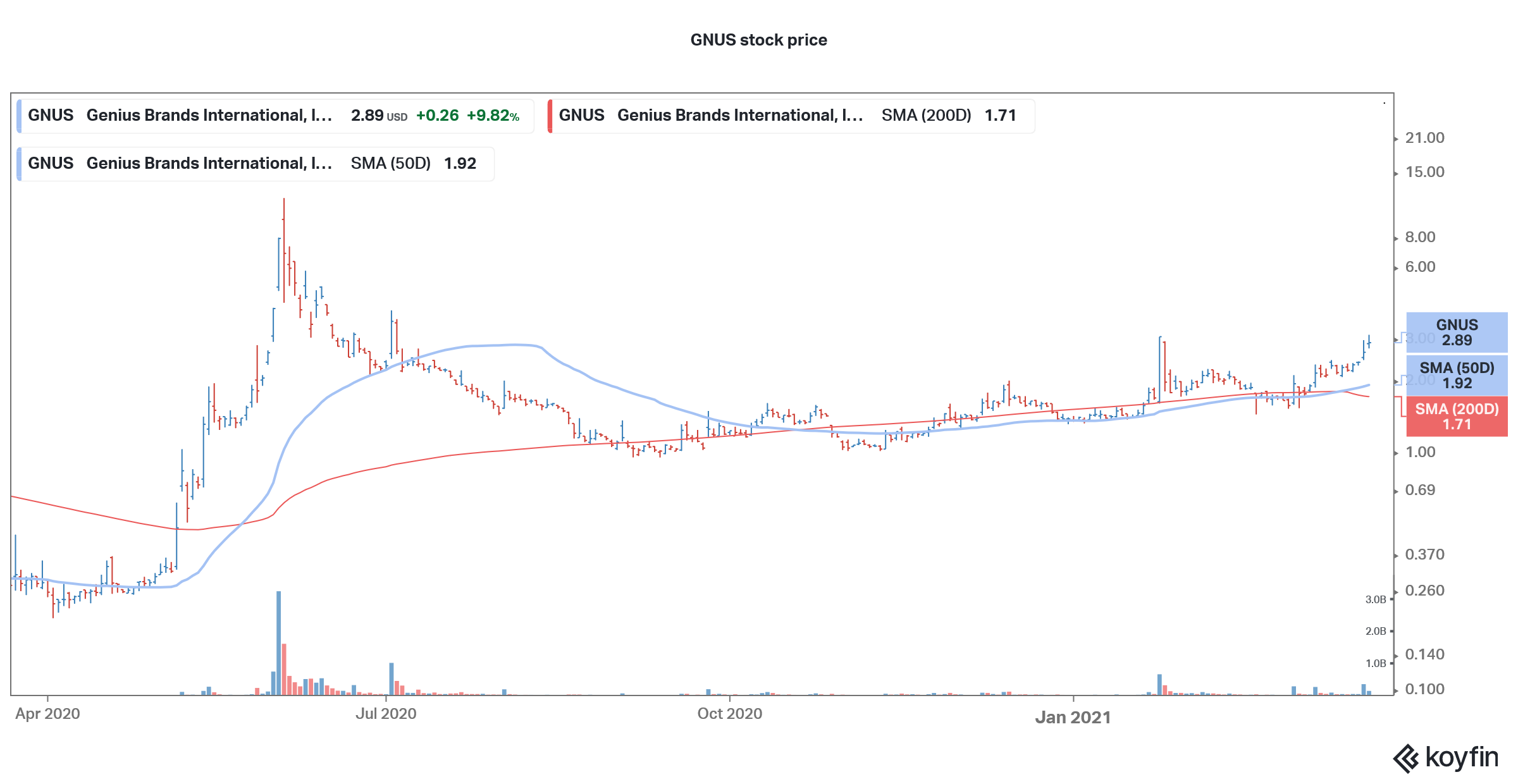 He also said, "I should also add there have been other rumors regarding people and properties Genius Brands is working on and with. Needless to say, we cannot announce anything regarding people, properties or deals, unless and until an agreement is concluded."
Article continues below advertisement
He also talked about acquisitions and pointed to the company's financial strength. The company does not have any debt on its balance sheet and has some cash that it intends to use for acquisitions.
Chatter about GNUS stock abounds on WallStreetBets.
GNUS stock was among the most discussed stocks on WallStreetBets. A post, which has been upvoted over 16,300 times, mentioned that the user paid off their student loan through profits made on stocks that include GNUS.
Article continues below advertisement
Meanwhile, the opinion over GNUS stock is quite divided. While some see it as a millionaire-maker stock, others see it as a speculative bet that will fall sooner than later.
Article continues below advertisement
GNUS stock forecast is spotty due to its penny status.
Despite the massive surge, GNUS is still a penny stock. It trades under $5 which is the threshold that the SEC has specified for penny stocks. According to the estimates compiled by CNN Business, only one analyst covers the stock. They have a "buy" rating on the stock with a $4.5 price target which implies an upside of 53 percent over the next 12 months.
GNUS short interest: Is another short squeeze possible?
According to the most recent filing, GNUS has a short interest of 8.9 percent. The ratio had surged to 20 percent earlier this year. However, it is worth noting that the data is based on the fortnightly filings and may vary between the days. That said, a short interest ratio below 10 percent does not look like a short squeeze candidate.
Article continues below advertisement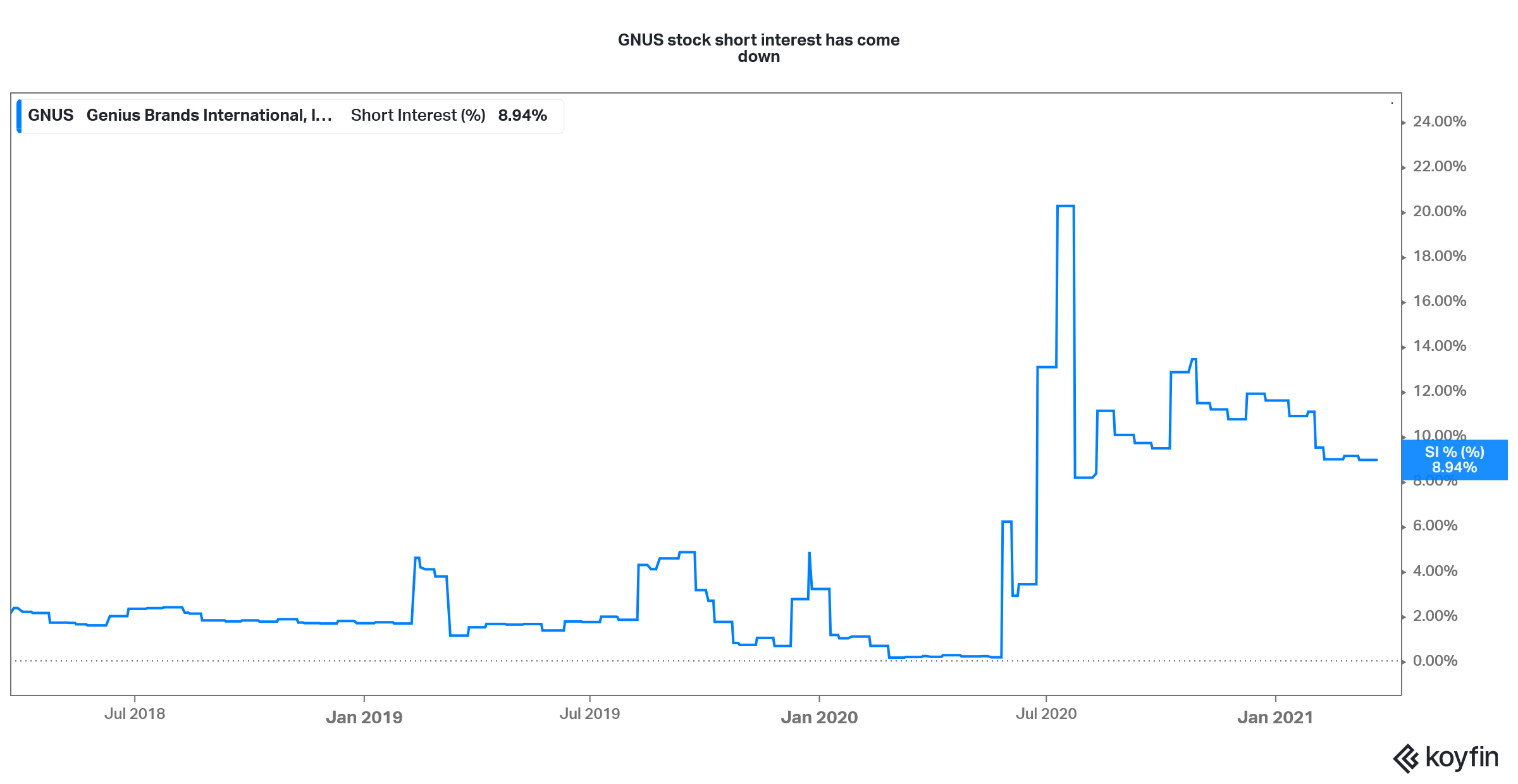 Is GNUS a good long term investment?
Genius Brands is looking at several partnerships and some of these have already been announced. Earlier this month, it signed a partnership with Tankee Inc., under which it would develop a 12-part series on Roblox that would be aired on its Kartoon Channel.
Article continues below advertisement
From an industry perspective, GNUS is into the child entertainment industry, which has a positive outlook despite being a space crowded by large companies that can spend aggressively on content.
Article continues below advertisement
But, the company's financials look quite weak. It posted revenues of only $5.9 million in 2019 which are expected to rise 53 percent in 2020 to $8.6 million. Talking of valuations, it is valued at an NTM (next-12 months) enterprise value-to-EBITDA multiple of 132x. Since the company is in the red on profitability metrics, we cannot value it based on them.
Overall, though the stock has been rising, the increased activity seems to be purely based on speculation and pumping by WallStreetBets. While some investors might have repaid their debts speculating on GNUS stock, typically many more retail investors end up getting trapped by such speculative plays. Overall, I would be staying away from GNUS stock for now as it looks like the typical case of "buy the rumor, sell the news."