FHA Loan Limits for 2022 Rise to Keep Up With Climbing House Prices
By Anuradha Garg

Dec. 8 2021, Published 2:28 p.m. ET
Real estate prices have been climbing steadily in the U.S. To keep up with borrowers being able to afford houses, many organizations are statutorily mandated to re-evaluate the home loan limits annually. The FHA (Federal Housing Administration) is one such authority. It announced the new loan limits on Nov. 30. So, what are the FHA loan limits for 2022?
Article continues below advertisement
The FHA has been helping people buy homes since 1934 when Congress created it to stimulate the housing market. The FHA is part of HUD (U.S. Department of Housing and Urban Development). FHA loans are mortgages that are insured by the FHA and backed by an FHA-approved lender. These loans are designed for low-to-medium income borrowers. They usually require a lower minimum down payment and lower credit scores compared to typical conventional loans.
What are the types of FHA loans and who qualifies?
FHA offers various kinds of loans in addition to traditional mortgages including:
Home Equity Conversion Mortgage (HECM)
FHA 203 (k) Improvement Loan
FHA Energy Efficient Mortgage
Section 245(a) loan
Article continues below advertisement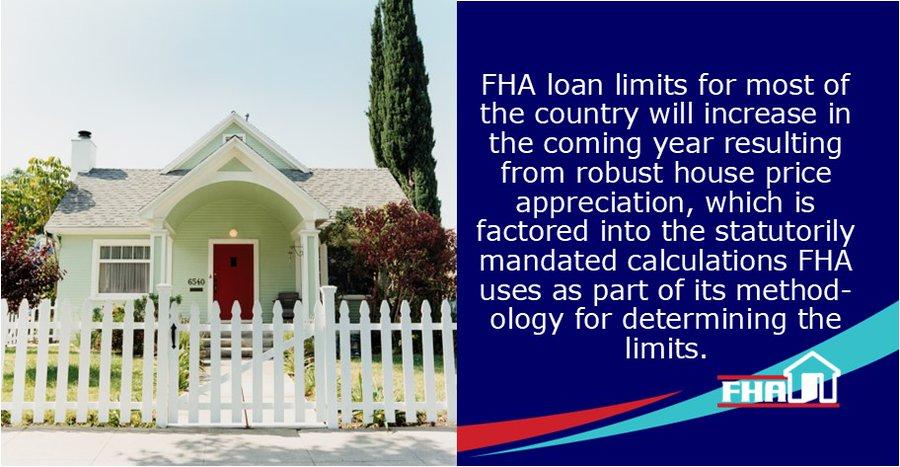 Due to these features, for first-time homebuyers, FHA loans are often the most attractive (and most feasible) option. However, not everyone qualifies for an FHA loan. The basic qualifications for an FHA loan are:
A minimum credit score of 580. You could still be considered if your score falls between 500 and 579. For conventional loans, the minimum credit score is 620.
For a credit score between 500 and 579, the down payment rises to 10 percent from 3.5 percent for 580+. For conventional loans, a down payment is usually between 3 percent and 20 percent.
The lender must be FHA-approved. Check the HUD Lender List search page for approved FHA lenders.
Article continues below advertisement
The FHA loan limits are higher for 2022.
The FHA loan limit for 2021 is 96.5 percent of the value of a home. This implies a down payment of just 3.5 percent. FHA loans don't have income limits but there are limits on how much you can borrow and the limits depend on location, differing for low, medium, and high-cost counties.
Article continues below advertisement
According to the Housing and Economic Recovery Act (established in 2008 following the subprime mortgage crisis), the baseline loan limits should be adjusted each year based on the average U.S. home price (based on the Federal Housing Finance Agency). The FHFA House Price Index rose by 18.05 percent annually in the third quarter of 2021. This led to an increase in the conforming loan limit by the same amount. Limits have to keep pace with the rise in home prices for low and moderate-income home buyers to afford them.
What are the FHA loan limits for 2022?
In 2021, for a one-unit property, the floor for low-cost areas was $356,362, while a high-cost area cap for the same property type was $822,375. The loan limits have been enhanced in 2022. For one-unit property, the floor for low-cost areas is $420,680 and $970,800 is the cap for high-cost areas in 2022. The following table from Mortgage Reports details the current FHA loan limits for 2022.
| | Low-Cost Area | Medium-Cost Area | High-Cost Area |
| --- | --- | --- | --- |
| 1 Unit | $647,200 | $647,201-$970,799 | $970,800 |
| 2 Units | $828,700 | $828,701-$1,243,049 | $1,243,050 |
| 3 Units | $1,001,650 | $1,001,651-$1,502,474 | $1,502,475 |
| 4 Units | $1,244,850 | $1,244,851-$1,867,274 | $1,867,275 |
Alaska, Hawaii, Guam, and the U.S. Virgin Islands also have their own limits set higher due to elevated costs of construction. In those four places, the 2022 baselines are $1,456,200 for one-units, $1,864,575 for two-units, $2,253,700 for three-units, and $2,800,900 for four-units.