COVID-19 Testing Stocks to Watch Amid Omicron Variant
Following market analysts' predictions earlier in the fall that demand for COVID-19 tests would dramatically decline in the coming year, testing companies might be looking at a surge. Due to the emergence of the omicron variant of the COVID-19 virus, concerns about the pandemic are ramping up again.
Article continues below advertisement
Article continues below advertisement
Last week, Bloomberg reported that several COVID-19 testing companies saw gains amid worries about the new variant. Two companies mentioned were diagnostics firm Teladoc Health Inc., which rose by 3.4 percent on the NYSE, and Eurofins Scientific SE, which jumped by 7.9 percent in Paris.
The outlook is shifting for COVID-19 testing stocks.
As investors face concerns about the overall outlook for the pandemic and how the omicron variant develops, some COVID-19 testing companies have a brighter outlook than they did a few months ago.
Article continues below advertisement
J.P. Morgan analyst Tycho Peterson referred to the likelihood of reduced hospitalization numbers due to new treatment options. He said this should help pull back on the pandemic response and reduce the need for COVID-19 testing, especially rapid testing.
Article continues below advertisement
Article continues below advertisement
Goldman Sachs even predicted a "collapse" of the rapid COVID testing market in 2022. However, this was in early October before the news about the omicron variant. It remains to be seen whether the gains some testing companies have seen in recent days will continue.
Companies that make COVID-19 tests might surge again.
COVID-19 testing stocks and treatment stocks that declined over the summer have seen a bit of a resurgence as the virus continues to evolve.
Article continues below advertisement
Abbott Laboratories (NYSE:ABT) manufactures rapid COVID-19 tests in the U.S. in addition to Quidel Corp (NASDAQ:QDEL) and OraSure Technologies, Inc. (NASDAQ:OSUR). Other testing stocks include Laboratory Corporation of America Holdings.
Article continues below advertisement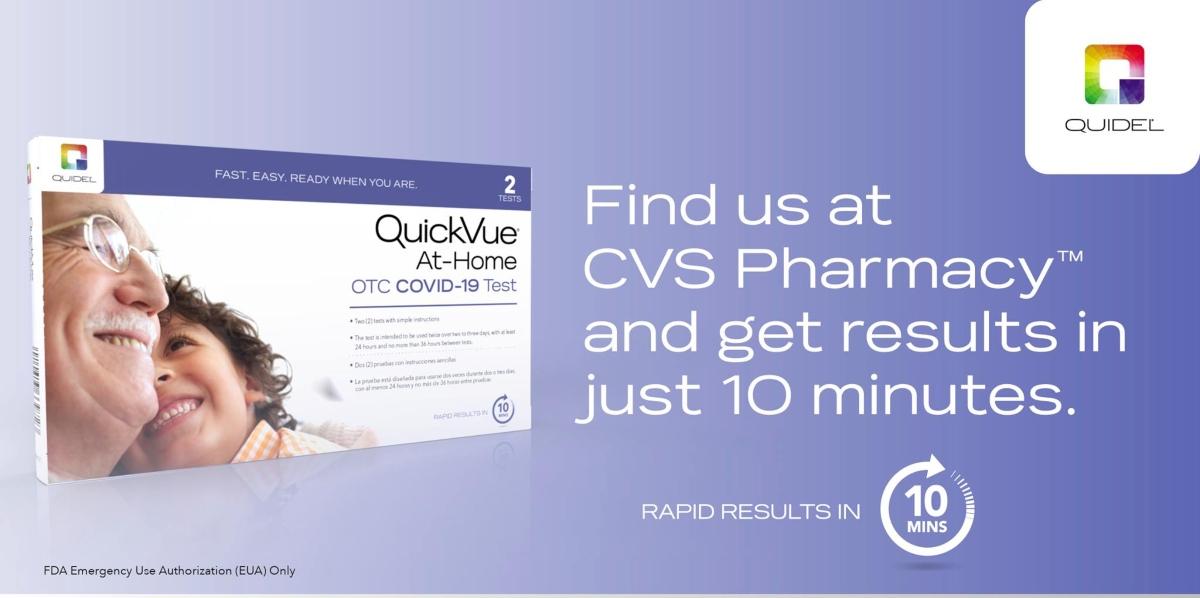 Article continues below advertisement
On Nov. 30, Quidel Corp. President and CEO Douglas Bryant released a statement about its PCR and rapid antigen tests for the coronavirus. He said, "While our studies are ongoing, the early data give us confidence that our American-made PCR and rapid antigen tests can detect COVID-19 caused by the Omicron variant."
Bryant also said that the company is increasing its production capacity to reach 70 million tests monthly by the end of the year.
Article continues below advertisement
Article continues below advertisement
Meanwhile, Quest Diagnostics (NYSE:DGX) is another testing stock to consider. Investor's Business Daily gave DGX a Relative Strength Rating of 84 and explained that market research shows that best-performing stocks have a rating of 80 or above "in the early stages of their moves."
LabCorp LH stock rose slightly on Dec. 1, up 0.04 percent to $285.45. Quest Diagnostics also increased on Dec. 1 rising by 1.72 percent, while Qiagen NV dropped 1.67 percent, according to MarketWatch.
Several other COVID testing companies might be of interest in Asian markets, according to Bloomberg—Sugentech Inc., Biolidics Ltd., Metropolis Heathcare Ltd., Thyrocare Technologies Ltd., and Dr Lal PathLabs Ltd.