Compass Stock Is a Good Long-Term Buy, Near IPO Price Levels
Compass (COMP) went public earlier this month in a lackluster listing. The company priced the IPO at $18, which is exactly where it closed on April 27. However, the IPO was priced at the lower end of its already downwardly revised price range. What's the forecast for COMP stock in 2021? Will the stock rise or fall from these levels and is it a good buy now?
Article continues below advertisement
COMP has a differentiated business model and it works with real estate agents, unlike iBuying platforms whose business model revolves around replacing the agents. Agents can use COMP's AI platforms to offer better service to their customers.
Why COMP stock has fallen
The fall in COMP stock is mainly due to two reasons. First, there have been concerns about the health of the U.S. housing market amid concerns of a bubble. Rival online homes marketplace OpenDoor, which went public last year in a SPAC merger, has also fallen hard. OPEN stock recovered somewhat after Cathie Wood's ARK Invest disclosed that it has bought shares of the company.
Article continues below advertisement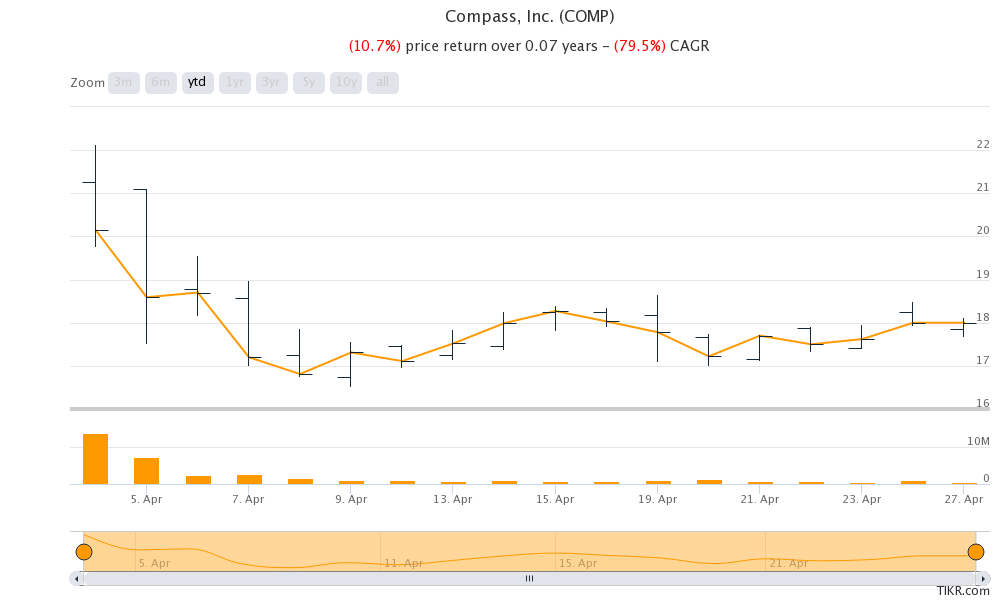 Second, there has been a tectonic shift from growth stocks to value stocks. Growth names like Compass, which have all of their earnings skewed towards the future, have been out of favor with investors.
Article continues below advertisement
COMP stock forecast
According to the estimates compiled by TipRanks, five analysts have a buy rating on COMP stock, while the remaining four have a hold or equivalent rating. Earlier this week, Oppenheimer, Morgan Stanley, and Goldman Sachs initiated coverage on the stock with outperform, overweight, and buy ratings, respectively.
Article continues below advertisement
Compass target price
While Oppenheimer has a $25 target price on COMP, Morgan Stanley has assigned a target price of $26. Goldman Sachs has a street-high target price of $32 on COMP stock. Meanwhile, Barclays initiated coverage on the stock with an equal weight rating and a target price of $18, which is the lowest among all of the analysts covering the stock.
COMP stock has an average target price of $23, which is a premium of 26 percent over the current prices.
Article continues below advertisement
COMP stock's valuation
COMP has a TAM (total addressable market) of $180 billion in the U.S. and $570 billion globally. That said, the real estate market is hugely fragmented lead by agents who charge a high commission.
Article continues below advertisement
However, like many other services, home buying and selling are also moving online. COMP faces competition from several quarters. These include discount brokers and home flipping platforms like Zillow and OpenDoor.
Compass generated revenues of $3.7 billion in 2020, which is expected to rise to $5.0 billion in 2020 and $6.37 billion in 2022. The company's market capitalization is only about $7 billion. This would mean a 2022 price-to-sales multiple of a little above 1x, which looks undervalued.
Article continues below advertisement
COMP looks like a good stock to buy now.
There are concerns about a slowdown in real estate sales in the U.S. amid rising mortgage rates. However, these fears might be unfounded and a booming economy would more than offset the negative impact from higher sales. The bond yields have also stabilized, which should help trigger a recovery in real estate stocks.
COMP can also increase its revenue share from ancillary services, which are higher margin. Overall, COMP looks like a good stock to buy now.
COMP stock outlook in 2021
While it's tough to predict the short-term price movement in 2021, COMP stock looks like a good buy for the long term. If investors can withstand the short-term volatility, COMP stock should rise higher over the long term.