Buy RTP SPAC Stock Before Joby Aviation Merger to Bet on Urban Mobility
Urban mobility is among the most prominent investing themes for the next ten years along with green energy and electric vehicles. Reinvent Technology Partners (RTP), a SPAC (special purpose acquisition company) has announced a merger with Joby Aviation, a company focused on UAM (urban air mobility). What are the terms of the RTP-Joby Aviation merger and should you buy the SPAC stock before the merger?
Article continues below advertisement
Archer Aviation, which competes with Joby Aviation, has also announced plans to go public. Like Joby Aviation, Archer has opted for the SPAC route. The company plans to merge with Atlas Crest Investment (ACIC). Companies in emerging industries like mobility, green energy, and the electric vehicle ecosystem have preferred to list through the SPAC route given the ease and lower time involved.
Article continues below advertisement
Joby Aviation acquired Uber's mobility business Elevate
Last year, Joby Aviation acquired Uber's air taxi business Elevate. In a bid to focus on profitability, Uber has been exiting its loss-making business. Along with Elevate, Uber has also sold its autonomous driving business named Advanced Technologies Group to Aurora. While Uber might have given up on autonomous driving and air taxis, it's among the hottest investment themes.
When will Joby Aviation merge with RTP?
Joby Aviation expects to complete the merger with RTP in the second quarter of 2021. The merger would be subject to approval from RTP stockholders. The ACIC-Archer Aviation merger is also expected to be completed in the second quarter of 2021.
Article continues below advertisement
Key terms of Joby Aviation-RTP reverse merger
The merger between Joby Aviation and RTP values the combined entity at a post-money equity value of $6.6 billion. The value is based on the IPO and PIPE (private investment in public equity) of $10 per share.
As part of the merger with RTP, Joby Aviation would get gross cash proceeds of $1.6 billion, which includes a PIPE investment of $835 million. Also, there are restrictions on sponsor shares and some of these don't vest until Joby Aviation's market capitalization reaches $30 billion.
Article continues below advertisement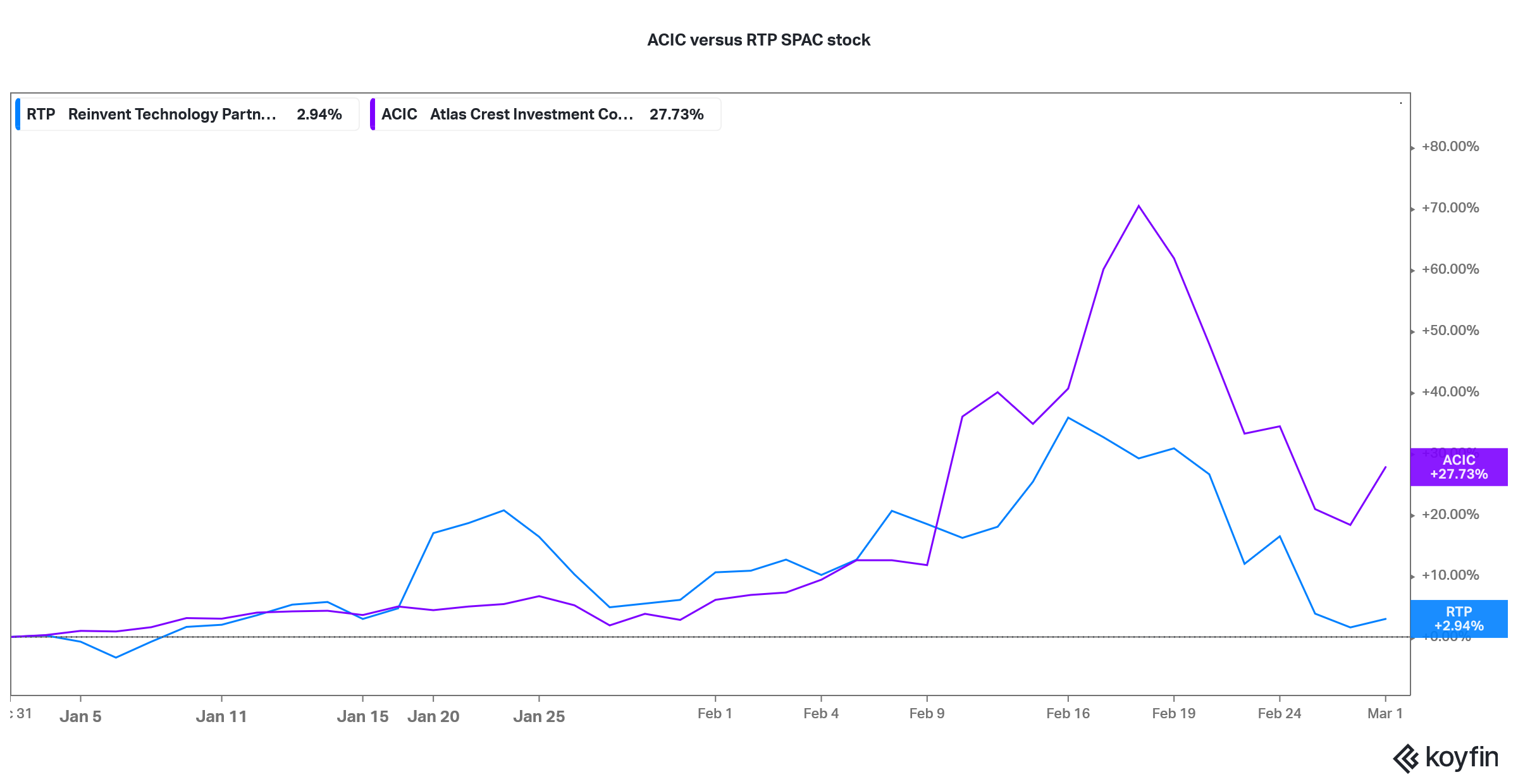 RTP stock has fallen off its peaks
RTP SPAC stock is trading at $11.9, which is a premium of 19 percent over its IPO price. The stock made a 52-week high of $17 and has fallen 30 percent from those highs. ACIC SPAC stock is also down 30 percent from its 52-week highs.
Article continues below advertisement
There has been a broad-based sell-off in most SPACs. These include SPACs that are still hunting for merger targets like Social Capital Hedosophia Holdings IV (IPOD). SPACs that have announced their merger targets have also fallen, which is visible in RTP and ACIC stocks.
Article continues below advertisement
Outlook for UAM
The outlook for UAM looks positive based on increasing congestion in cities. There are various estimates of the TAM (total addressable market) of UAM. In its presentation, Archer Aviation said that it expects a TAM of $1.5 trillion for UAM, which stretches to $3 trillion in the optimistic scenario.
Joby Aviation said that it sees the TAM for UAM at $1 trillion globally and $500 billion in the U.S. Joby Aviation cited the 2018 UAM Market Study from Booz Allen Hamilton for its forecasts.
Article continues below advertisement
RTP stock looks promising before the Joby Aviation merger.
Joby Aviation has an integrated business model where it would manufacture and operate the aircraft. The company's partnership with Uber would help it use the Uber app for its services. Joby Aviation has the vision to offer flights at the same price as ground taxis, which looks revolutionary.
Article continues below advertisement
Joby Aviation expects FAA (Federal Aviation Administration) certification in 2022 and plans to launch commercial services in 2024. In February, Joby Aviation agreed to a "G-1" certification basis from the FAA and also generated its first revenues.
From a valuation standpoint, Joby Aviation is trading at a premium to Archer based on the 2026 revenues that these companies are forecasting. That said, Joby Aviation looks like a good stock to buy before the merger with RTP. Joby Aviation and Archer are both plays on the future of UAM where air taxis would play an increasing role.