AMTD Digital Stock Forecast: Stay Away From HKD for Now
The U.S. IPO market has been almost dead in 2022. In July, AMTD Digital, which is a subsidiary of AMTD IDEA Group, went public and now trades under the ticker symbol "HKD." The stock has risen sharply since the IPO. What's happening with HKD stock and is the forecast bullish for this fintech and metaverse play?
Article continues below advertisement
Over the last year, most IPOs and de-SPACs have turned out to be wealth destroyers. Whether it be Rivian, which was the largest IPO since 2014, or Grab, which was touted as the biggest SPAC merger ever, investors have burned their fingers with newly listed companies.
HKD stock spiked following the IPO.
Amid all the pessimism over newly listed companies, which is best captured by the price action of the Renaissance IPO ETF, HKD's price movement looks like a welcome break. The company sold 16 million ADS (American depository shares) at $7.80 per share and raised almost $125 million from the issue.
Article continues below advertisement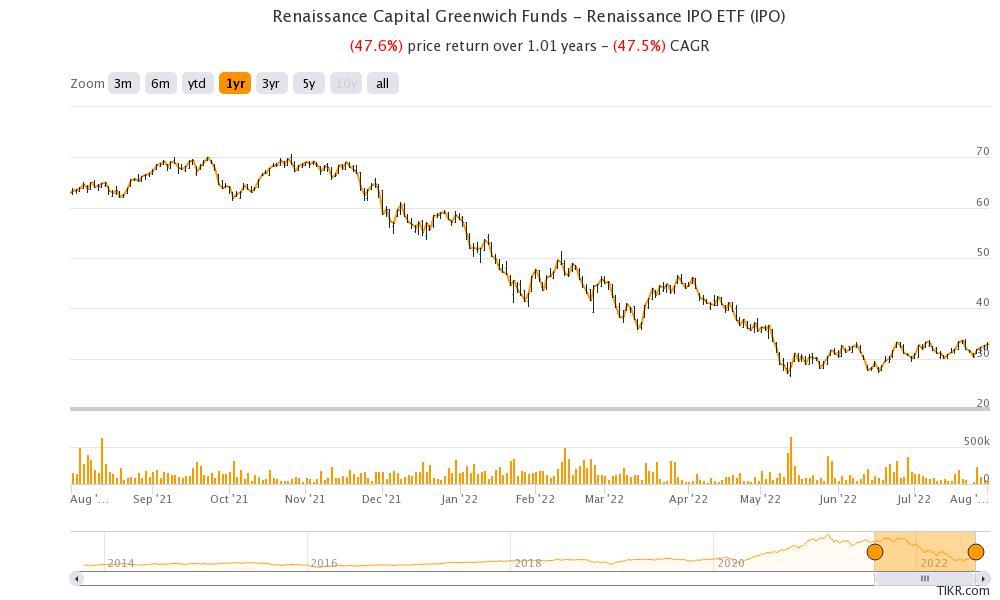 AMTD Digital stock started trading at $13.00, which was 66.7 percent above its IPO price. In an environment where companies have had to shelve IPO plans and unlisted startup companies are lowering their valuations to raise funds, the initial rise in HKD stock looked encouraging.
Article continues below advertisement
What's happening with HKD stock?
However, the rally in HKD stock didn't stop with the listing day surge. The stock has been extremely volatile, which is evident in its price action on Aug. 1. It opened at $335.50, which was sharply lower than the previous day's closing, and went on to hit an intraday low of $278.51.
The stock rallied towards the end of the day and eventually closed at $742, which is an almost 1,000 percent rally from the IPO price. The company's market value is almost $140 billion. Despite posting billions of dollars in profits every quarter, Meta Platforms, which is building its metaverse, has a market cap of around $434 billion.
Article continues below advertisement
HKD's stock forecast looks promising but the stock price is too high.
According to HKD, it's "Asia's One-Stop Comprehensive Digital Solutions Platform." It has AMTD SpiderNet World, which it describes as "the best and most promising Metaverses." AMTD Digital is otherwise a fintech play and also offers digital media, content, and marketing solutions.
Article continues below advertisement
The businesses have a positive forecast even though China has cracked down on fintech companies and also blocked the Ant Financial IPO. The current valuation of Alibaba-backed Ant Financial is way below what it was in 2020.
Article continues below advertisement
HKD is a profitable company and posted a net profit of $22.1 million in the fiscal year ended April 30, 2021, which gives us a PE multiple of around 63x. The company is growing fast and its revenues have increased over 10x between fiscal 2019 and 2021.
However, the growth rate has tapered down in fiscal 2021 and thereafter. For example, in the 10-month period ending February 2022, it posted a net profit of $23.9 million, which was 65 percent higher than the corresponding period in the previous year.
Article continues below advertisement
The valuations have started to look scary. After the steep rally, the valuation has also increased almost 1,000-fold. With the valuations of growth stocks taking a hit amid the Fed's rate hike, HKD might now be the most overpriced stock on the U.S. markets among companies of similar market cap. Overall, it would be prudent to stay away from the stock after the speculative rally.