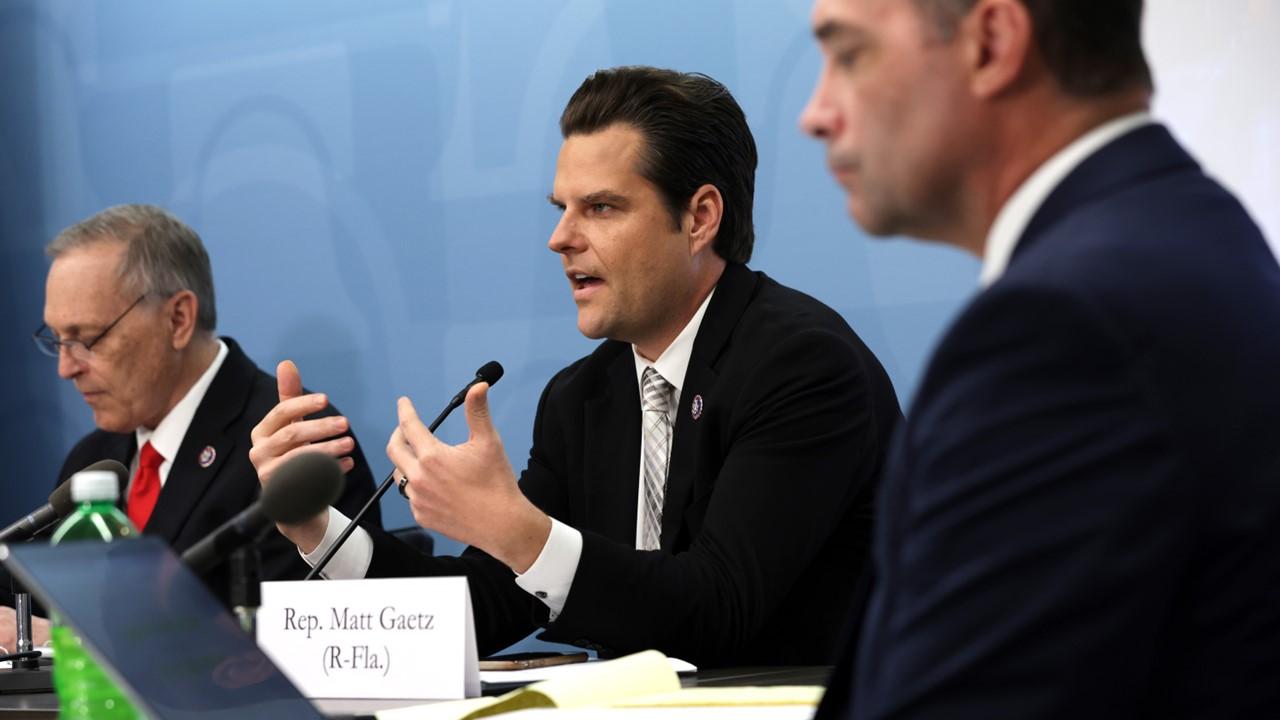 These Members of Congress Got PPP Loan Forgiveness, Dissed Student Loan Relief
The Paycheck Protection Program (PPP) gave and forgave loans to 13 Republican members of Congress. The GOP also happens to be largely against student loan forgiveness. Senate Minority Leader Mitch McConnell of Kentucky called Biden's forgiveness plan "a slap in the face to working Americans."
Article continues below advertisement
Marjorie Taylor Greene was one of 13 Republican Congress members who had PPP loans forgiven
According to the Center for American Progress (CAP) Action, a left-leaning lobby group, Greene is one of 13 Republican members of Congress who owns or partially owns a business that received a PPP loan that the Small Business Administration (SBA) ultimately forgave. Greene's loan was reportedly worth $180,000.
Article continues below advertisement
The announcement comes after the House Judiciary GOP tweeted in response to Biden's student loan forgiveness plan, "If you take out a loan, you pay it back. Period."
While the GOP will likely challenge Biden's student loan forgiveness plan in court, the juxtaposition remains. Other Republican members of Congress who fall in this camp include:
Rep. Matt Gaetz (R-Florida) with a $476,000 loan

Rep. Greg Pence (R-Indiana) for $79,441

Rep. Vern Buchanan (R-Florida) for $2.8 million

Rep. Kevin Hern (R-Oklahoma) for $1.07 million

Rep. Roger Williams (R-Texas) for $1.43 million

Rep. Brett Guthrie (R-Kentucky) for $4.3 million

Rep. Ralph Norman (R-South Carolina) for $306,520

Rep. Mike Kelly (R-Pennsylvania) for $974,100

Rep. Vicki Hartzler (R-Missouri) for $451,200

Rep. Markwayne Mullin (R-Oklahoma) for $988,700

Rep. Carol Miller (R-West Virginia) for $3.1 million
Article continues below advertisement
The attention lands on Republican PPP loan recipients due to their contradictory opinions on loan relief.
Republicans aren't alone in the fact they received PPP loans and had them forgiven. Democrat members of Congress also utilized the tool for themselves or their families. Nancy Bass Wyden, wife of Sen. Ron Wyden (D-Oregon), received a $2.7 million PPP loan.
House Speaker Nancy Pelosi (D-California) partially owns a California hotel that received PPP loan money. The former law firm of Rep. Matt Cartwright (D-Pennsylvania), where Cartwright's wife worked throughout the pandemic, received a PPP loan. The husband of Rep. Susie Lee (D-Nevada) helms a regional casino that received one.
Article continues below advertisement
The dual-sided nature of the PPP loans' congressional infiltration has been well known, but the GOP denying another form of relief is making some Americans scratch their heads. Rep. Jim Jordan (R-Ohio) tweeted on Aug. 24, "Who will ultimately pay the price of Joe Biden's student loan handout? The 87 [percent] of Americans who don't have student loans!"
This sentiment echoes throughout the GOP despite their situational preference for loan forgiveness measures.
Biden's student loan forgiveness plan eliminates an estimated $300 billion in debt, the majority of which will reportedly help those earning $75,000 or less annually. With midterm elections on the horizon this fall, things are heating up on the homefront and the student loan relief issue will likely remain at the forefront as it goes into effect.