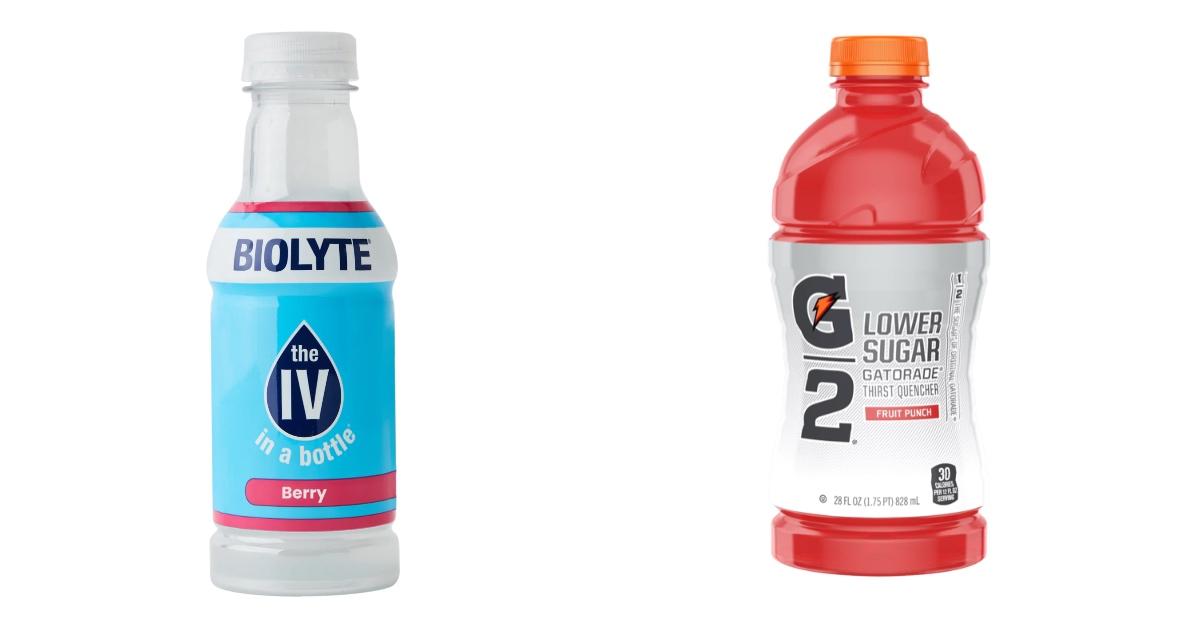 Biolyte's Sales Are Rising Rapidly — How Does It Compare to Gatorade?
If you are actively involved in sports or are in need of an electrolyte boost because you've fallen ill or overworked yourself, it's likely you'll turn to Gatorade to satisfy your needs. For years, Gatorade has served as the leading sports and electrolyte drink, though there are plenty of competitors looking to rise above it.
Article continues below advertisement
Is Biolyte one of them? Keep reading to see how Biolyte compares to Gatorade.
Biolyte got its start in 2016 and quickly caught the attention of major retailers.
Biolyte was created by a couple and their daughter in Georgia who were desperate to solve a problem. After Jeannine Rollins was diagnosed with breast cancer in 2005, requiring her to undergo chemotherapy, reports Inc., she sought products to combat the dehydration that came along with it.
Article continues below advertisement
To no avail, Rollins' husband, Dr. Luther C. Rollins, who's an anesthesiologist and pain specialist, began formulating his own product for his wife.
In 2016, the family received their first shipment of what would become Biolyte, and that's when Rollins' daughter and the now-CEO of Biolyte, Jesslyn Rollins, became informed of what he had been "secretly" working on.
Article continues below advertisement
The product, which claims to be "an IV in a bottle," can be used to treat dehydration, nausea, fatigue, cramping, and increase energy levels. Best of all, it's safe for most people to consume (we'll discuss this more in-depth down below). Jesslyn, who initially served as a test subject, saw how effective the drink was after she consumed it the day following a long night out, shared Inc.
After experiencing the positive results firsthand, Jesslyn began marketing the product, which eventually made its way into Kroger stores and is now "in almost 20,000 retail locations."
Article continues below advertisement
How do Biolyte and Gatorade compare in terms of revenue?
During its first year on the market (and being sold out of Jesslyn's vehicle), Biolyte reported $157,000 in revenue. By 2021, Biolyte's revenue has climbed to almost $17 million. Now, although Biolyte's track record is quite impressive, it isn't t yet a match for Gatorade, a brand owned by PepsiCo.
Is Biolyte good for you?
According to Biolyte's website, it's safe to consume one to three bottles of the product per day. While each bottle does contain 700 mg of sodium, compared to the 270 mg the average bottle of Gatorade contains, the company says that "the sodium count in BIOLYTE is essential in the distribution of water and other electrolytes throughout the body."
Article continues below advertisement
The company also explains that "the average person's kidneys are able to filter out this amount of sodium through sweat, urine, or waste."
In regard to sugar, Biolyte says it contains just enough (10 grams of dextrose) "to help your body move all of the electrolytes found in Biolyte from the small intestine to the bloodstream." Gatorade's Thirst Quencher beverage (20 fl. oz.) contains 34 grams of sugar. Biolyte says the dextrose is used to treat "nausea, cramps, and fatigue."
Article continues below advertisement
Another ingredient found in Biolyte that might have you questioning its level of safety is erythritol, which is a low-calorie sweetener. The company says it decided to utilize erythritol "because it doesn't affect blood sugar, doesn't cause tooth decay, and only 5 percent of all erythritol is absorbed by the body."
Overall, Biolyte certainly seems like a firm competitor against Gatorade, though it will take some time for the brand, which is headquartered in Atlanta, to surpass Gatorade in sales.