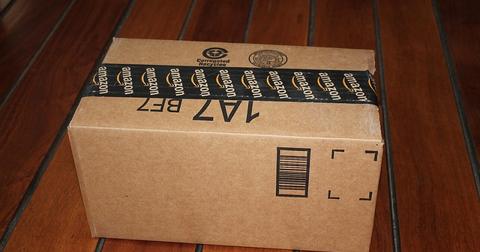 Which Mark Cuban Startup Is Fueling Amazon's Engine?
By Ruchi Gupta

Updated
A Mark Cuban-backed startup has been supporting U.S. businesses during the coronavirus pandemic. So far, Amazon.com has been enjoying the benefits.
Mark Cuban, an entrepreneur and investor, owns the Dallas Mavericks. He weighed a presidential run but his family could not support it.
The startup called "Cultivate" has built a special type of online shopping tool. The tool is available on the startup's website or as a Google Chrome browser plug-in. Cultivate's tool helps shoppers find and buy products made in the U.S. The goal is to drive sales for U.S. businesses during the COVID-19 pandemic.
Mark Cuban's startup sends shoppers to Amazon
Small businesses in the U.S. have been dealing with less demand and soaring costs amid the pandemic. Mark Cuban's Cultivate thinks it can help boost the sales of goods made in the U.S. and support local businesses.
Amazon has benefited from Cultivate's efforts to drive sales of U.S. products. On Cultivate's website or using a Google Chrome plug-in, the shopping tool directs people to buy items on Amazon that were made in the U.S.
So far, Amazon has become the go-to place for online shoppers during the COVID-19 pandemic. Mark Cuban's efforts through Cultivate brought even more shoppers to Amazon and boosted its sales. Amazon derives most of its revenue from e-commerce sales. However, the cloud computing business contributes most of the company's profit.
Cuban is a big fan of Amazon stock
Amid Mark Cuban's Cultivate bid to boost sales of goods made in the U.S., Joe Biden also unveiled buy his 'American' economic plan. He plans to spend $400 billion on the federal government's purchase of U.S. made products if he becomes president. Biden would allocate $300 billion toward funding technology research and development in areas like 5G and artificial intelligence.
Currently, Amazon is the best-performing FAANG stock this year. The stock has climbed 70 percent this year and beat Netflix, which is up 50 percent for the year. Apple, Facebook, and Google parent Alphabet, the other FAANG stocks, have gained 32 percent, 18 percent, and 16 percent this year, respectively.
In addition to Amazon stock, Netflix is another big holding in Mark Cuban's portfolio. The billionaire entrepreneur boasts a net worth of $4.2 billion.