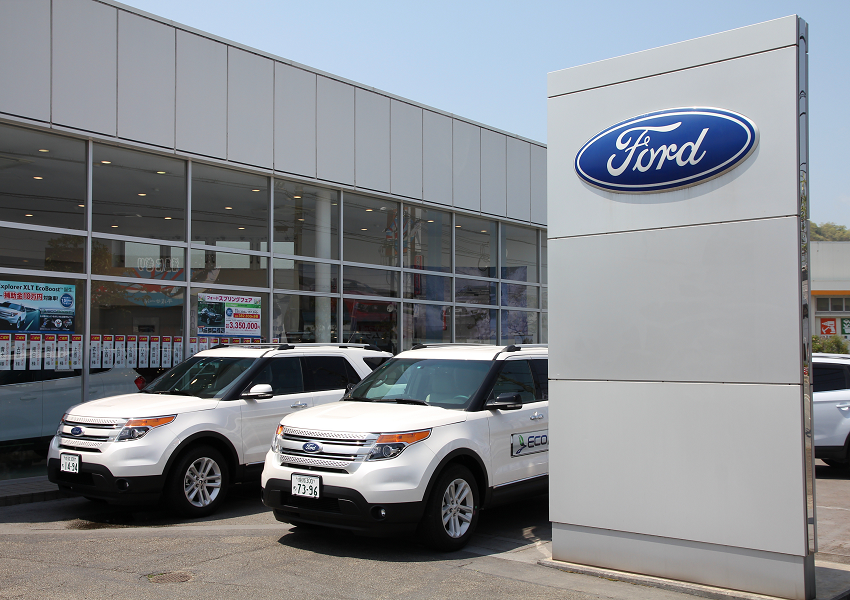 Ford Boosts Investment in Autonomous, Electric Vehicles
Article continues below advertisement
Article continues below advertisement
Ford trying to expand SUVs and trucks portfolio
The larger portion of its planned investment will go toward its manufacturing facility in Wayne, Michigan. Ford says it will invest nearly $750 million in the facility and will add 2,700 jobs over the next three years. The investment will focus on installing new equipment to help build an all-new Bronco SUV and Ranger small pickup truck.
Additionally, the company will use part of the fund to create a new modification center at the Wayne factory. The modification center will support Ford's ambitious plan of launching its first autonomous vehicle in 2021. According to Ford, workers will start installing self-driving technology in vehicles, including the Bronco and Ranger, at the facility starting in 2021.
Ford has planned to launch its new SUV model, the Bronco, in spring next year. Its Ranger pickup truck will get next-generation updates around 2021. The company relaunched the Ranger in 2018 after it discontinued the model in the US and Canada in 2011.
Ford's latest move seems to be part of its strategy to expand its portfolio of big vehicles such as SUVs and trucks. For the past few years, the company has been trying to shift its focus from sedan to large-size vehicles.
In the third quarter of 2019, Ford's SUV and truck mix accounted for 87% of total automotive sales volumes in the North American market. Its combined SUV and truck sales increased 0.5% YoY last quarter. On the contrary, sales of its cars fell 29.5% YoY in the third quarter.
Ford's investment plans for the F-150
The US automaker plans to invest the remaining $700 million in its Dearborn, Michigan, plant and add over 300 employees. The investment will support the productions of the hybrid and battery-electric variants of its fast-selling F-150 pickup trucks. Ford will also create a new facility at the Dearborn location for assembling battery cells into battery packs of F-150 hybrid and electric variants.
The company plans to launch the all-new upgraded version of its F-150 and F-150 hybrid variants in 2020. In a press release, it also revealed that its battery-electric version would follow soon after the launch of its hybrid model.
Trucks account for over 50% of Ford's overall vehicle sales in the US market. In the third quarter, truck sales increased 8.8% YoY to 309,920 units, accounting for 53% of Ford's total sales in the US. Moreover, from January through September, truck sales grew 6.9% YoY to 913,061 units.
Article continues below advertisement
The latest investment plans at its two North American facilities comply with its 2019 contract with the United Automobile Workers. As per the agreement between the two parties, Ford has pledged to invest $6 billion in the US. The contract also binds Ford to create and retain 8,500 jobs in the country.
Ford aggressively invests in electric and hybrid vehicles
Ford's latest move is part of its long-term strategy to invest $11.5 billion globally to introduce 40 fully electric and hybrid models by 2022. On Tuesday, Joe Hinrichs, the president of Ford's automotive business, said, "At Ford, we are investing aggressively in building on our strengths today – including trucks and SUVs – while at the same time expanding our leadership into electric and autonomous vehicles." He added, "As America's No. 1 producer of automobiles, we are proud of our commitment to invest in manufacturing here in Michigan."
Growing environmental and energy-saving awareness are driving demand for hybrid vehicles and EVs (electric vehicle). However, in this space, Tesla (TSLA) is the leader, with a market share of 80% in the US. Tesla's early foray in the EV space has given it an edge over other legacy automakers.
My colleague at Market Realist, Mike Sonnenberg, wrote in a piece on December 18, "While General Motors (GM) has given some competition to Tesla with its Bolt and Volt, other legacy automakers are far behind."
Article continues below advertisement
Article continues below advertisement
Therefore, Ford has made an aggressive investment plan in the EV space. During its last quarterly conference call, Ford said that it would replace 75% of its North American product line-up by the end of 2020. The company expects to launch hybrid variants of its Lincoln Aviator, Corsair, Explorer, and Escape models next year.
Furthermore, last month, Ford launched its first fully electric SUV Mustang Mach-E. The company claims that the model will compete with Tesla's upcoming Model Y on features. It will also give competition to Tesla's Model 3 on price point. Ford's electric F-150 could directly compete with Tesla's recently launched Cybertruck.
Stock performance
With a YTD (year-to-date) gain of 23%, Ford stock has outperformed the majority of its peers. General Motors and Tesla stocks have gained 11.4% and 21.4%, respectively. Toyota Motor's (TM) YTD return coincides with Ford's YTD gain. Ford stock has also outpaced the increases of the Dow Jones and the First Trust Nasdaq Global Auto Index Fund (CARZ). The Dow Jones and CARZ are up 21.7% and 8.9%, respectively, YTD.
Considering its promising long-term growth strategy along with low valuation multiples and high dividend yield, we believe Ford stock could be an attractive investment option for investors. Ford is currently trading 44% down from its five-year high of $16.74 on March 23, 2015. The stock has a one-year forward PE multiple of 7.6x, significantly lower than the industry average of 9x.
Additionally, Ford stock has a forward dividend yield of 6.3%, which is way higher than most of its peers. Toyota Motor and General Motors have forward dividend yields of 2.5% and 4.1%, respectively.