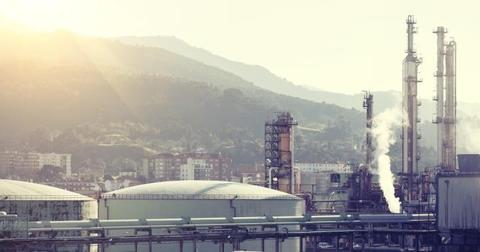 Why Does Valero Stock Have More Upside Potential?
By Ambrish Shah

Updated
Valero Energy (VLO) stock rose about 1.56% on September 23, and the stock closed the trading day at $84.14. We think that part of the rise could be due to the company restarting its crude processing units. According to a Reuters report, on September 23, "Valero Energy Corp is restarting the small crude distillation unit at its 335,000 barrel-per-day Port Arthur, Texas, refinery on Monday after repairing a valve on Sunday." The report added, "Valero is also raising production on the large CDU at the Port Arthur refinery, which was cut back last week due to Tropical Storm Imelda."
At the closing price of $84.14, Valero's market capitalization is $34.87 billion. Valero stock is trading 30.30% lower than the 52-week high of $120.72 on October 3, 2018. Meanwhile, the stock is trading 22.28% higher than the 52-week low of $68.81 on December 26, 2018. Overall, Valero stock has returned around 12.2% year-to-date.
Analysts' recommendations and target price
In September, the consensus rating for Valero stock was a "buy," which largely remained unchanged from the previous month. Analysts have turned more bullish on the stock over the past three months. In addition, none of the analysts recommended a "sell" or a "strong sell." Also, in September, three analysts have maintained a "hold" rating, which largely remained unchanged from the previous month. And five analysts recommending a "buy" and a "strong buy" also remained unchanged month-over-month.
Currently, Valero analysts have a 12-month target price of $100.17 on the stock. On September 23, the Valero stock was trading at a discount of 19.1% to analysts' 12-month target price. Also, its median target price was $99.00 on the same date.
Forward PE ratio
Valero stock has a forward PE ratio of 16.55x for fiscal 2019. For fiscal 2020, the ratio is 8.75x. The company's adjusted EPS would fall 30.9% in fiscal 2019 and rise 89.0% in fiscal 2020.
The Valero stock looks expensive, considering its expected negative earnings growth for fiscal 2019. However, the stock looks cheap based on its expected earnings growth of 89.0%. Also, it has a PE ratio of 8.75x for fiscal 2020.
Growing revenue and earnings
Valero's revenues are expected to fall 11.2% in fiscal 2019 to $103.96 billion. Its sales could increase by 8.3% in fiscal 2020 to $112.60 billion. By fiscal 2021, they could decrease 3.3% to $108.92 billion.
In comparison, the company's adjusted EPS could fall by 30.9% to $5.09 in fiscal 2019. The company's adjusted EPS could increase by 89.0% to $9.62 in fiscal 2020. Also, it could increase at an annual rate of 4.39% in the next five years. And Valero has a dividend yield of 4.28%.
Financial performance
Valero's revenues fell 6.7% YoY (year-over-year) to $28.93 billion during Q2 and beat analysts' estimate of $24.51 billion. Valero posted an adjusted EPS of $1.51 in Q2. The numbers beat analysts' expectations of $1.37 per share.
However, Q2 earnings fell around 29.8% YoY due to a decline in the top line. According to the Reuters report, the company "beat analysts' estimates for quarterly profit, driven by a rebound in gasoline prices and as the independent U.S. refiner processed more crude at lower-than-expected costs."
Valero stock near its Bollinger Bands
The stock's trailing five-day, trailing one-month, and trailing 12-month price movements were 2.1%, 13.4%, and -25.0%, respectively. Based on its September 23 closing price, Valero stock was trading 6.0% above its 20-day moving average of $79.34. The stock was trading 4.9% above its 50-day moving average of $80.19.
The company was trading 4.9% above its 100-day moving average of $80.20. Valero's 14-day relative strength index score is 60.35, which may mean that investors are neutral toward the stock. However, on September 23, Valero stock closed at $88.25. This is near its Bollinger Bands upper-range level, which may mean that it's been overbought.
Valero stock falls this morning
Valero's current 14-day MACD (moving average convergence divergence) is 1.83. The positive score may mean an upward trading trend for the company. However, Valero stock has fallen about 0.44% in today's trading session as of 11:21 AM EDT.
Read Why Valero Stock Slumped on Q2 Earnings to learn more.