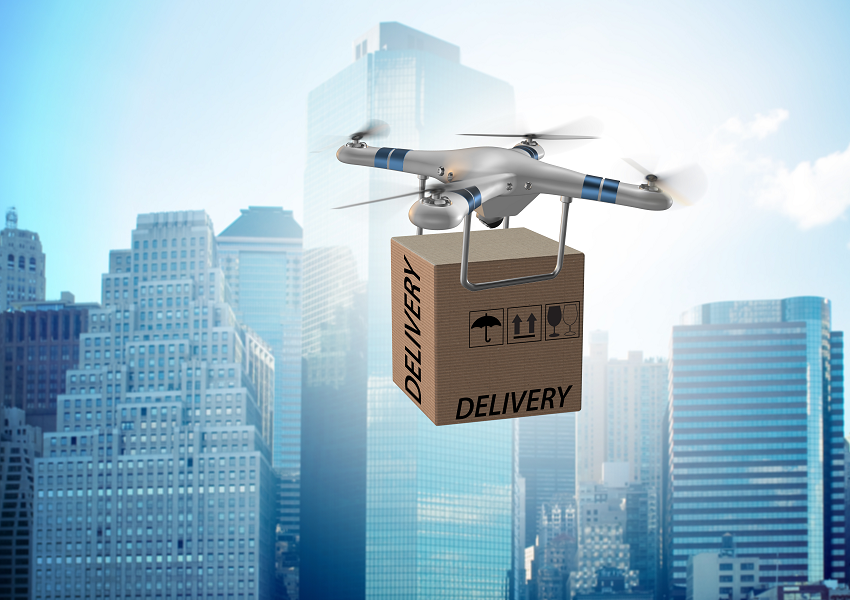 FedEx Teams Up with Google Wing to Test Drone Delivery
FedEx (FDX) has teamed up with Alphabet's (GOOGL) Wing to make drone delivery a reality. On September 19, Google's sister company announced that it's launching a test program for drone delivery in Virginia next month. If the companies succeed in their tests, it will give them a massive advantage in the autonomous delivery space.
Alphabet's Wing has selected the southwest Virginia town of Christiansburg, which has a population of roughly 22,000, for the pilot program. According to Wing's press release, FedEx Express customers who opt for drone delivery will receive packages through this service. The company also said it would not charge for deliveries throughout the test period.
Apart from FedEx, retailers Walgreens (WBA) and Sugar Magnolia have also collaborated with Wing for the pilot program. The launch program will test delivery services for over-the-counter medicines, food and beverages, and specific packages within a specified mile.
Article continues below advertisement
Article continues below advertisement
About Wing drone delivery
Alphabet's wholly-owned subsidiary Wing is trying to develop technologies to make drone delivery a reality. Earlier it was part of the Google X program. However, Alphabet separated the project in 2018 to make Wing an independent company.
The company has been working with the US government since 2016 to test drone delivery. In April this year, it was the first company to receive a regulatory nod for delivering commercial goods. Wing's drones weigh around ten pounds and can carry up to three pounds' worth of packages. The drones can travel at a speed of over 70 miles per hour. However, in a single takeoff, they can only fly up to six miles.
We learned about the functions of Wing's drones in a September 19 TechCrunch report. For pickups and deliveries, drones will stay over 20 feet off the ground. For pickup, Wing's drones will lower a tether, and a human operator will hook the package. The report states that the parcel will be dropped via the same rope or chain once the drone arrives at the delivery location.
Article continues below advertisement
FedEx countering rising Amazon threat
Since the beginning of 2019, FedEx has been investing heavily in autonomous delivery solutions for short-range deliveries. Automating last-mile delivery could drastically reduce the company's operating expenses and help it deliver better services to customers.
In February, the company announced that it was experimenting with an autonomous delivery robot–the FedEx SameDay Bot–for last-mile delivery. The logistics giant has collaborated with the likes of Pizza Hut, Walgreens, Target (TGT), and Walmart (WMT) on the SameDay Bot delivery program.
FedEx's foray into autonomous delivery services reflects its awareness of the rising threat from Amazon (AMZN) and UPS (UPS). Since last year, logistics companies have been considering the fact that Amazon could pose a greater risk to their businesses in the future.
Amazon has been aggressively investing in enhancing its own logistics infrastructure. The e-commerce giant has grown its air cargo fleet to 70 and has added over 10,000 delivery vehicles.
Additionally, the e-retailer is trying to lower its dependency on courier companies for last-mile delivery. It revealed its ongoing experiment on a six-wheel electric hamper called Amazon Scout in January. Moreover, Amazon received regulatory approval for drone delivery in June this year.
Considering the rising competitive threat, FedEx is cutting ties with Amazon to focus on the broader e-commerce delivery market. In 2019 so far, the logistics giant hasn't renewed two delivery contracts with the e-retailer. Amazon delivery contracts accounted for 1.3% of FedEx's total revenue in fiscal 2019.
FedEx's rival UPS has also joined the autonomous delivery vehicle race. Last month, the company announced that it was buying a minority stake in autonomous tech startup TuSimple for an undisclosed amount. UPS and TuSimple are trying to develop and deploy technologies to fully automate long-haul commercial trucks.
Article continues below advertisement
Article continues below advertisement
FedEx stock performance
FedEx has been among the most beaten-down stocks in the last 12 months. Back-to-back dismal quarterly performances and a disappointing outlook have made investors increasingly cautious about its growth prospects. Moreover, global economic slowdown concerns and uncertainty over US-China trade negotiations have kept the stock on a downward trajectory.
FedEx stock has lost over 37% of its market value in the last year. As of its September 19 closing price of $152.45, the stock was trading near its 52-week low of $147.82. Moreover, it's down 39% from its 52-week high of $250.95.
The decline in FedEx stock is significantly higher than the fall in the iShares Transportation Average ETF (IYT). The ETF has lost 8.7% of its market cap over the last 12 months. About 20% of IYT's portfolio constitutes air freight and courier companies. FedEx has also underperformed the gains of major US indexes. During the same period, the Dow Jones and the S&P 500 have risen 2.6% and 3.4%, respectively.