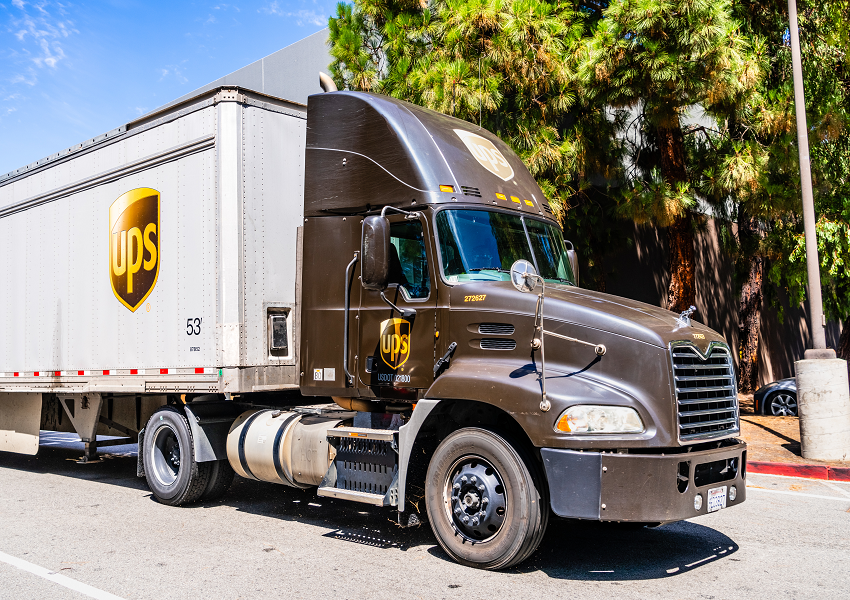 UPS Enters Self-Driving Race, Buys Stake in TuSimple
United Parcel Service (UPS) has joined the self-driving vehicle race. Last week, the company announced its purchase of a minority stake in autonomous tech startup TuSimple. The delivery giant made the investment following the results of ongoing self-driving truck road tests. However, neither company has disclosed the investment amount.
Founded in 2015, TuSimple is trying to fully automate long-haul commercial trucks. Bloomberg reports the company has received total funding of $178 million since its inception. In February, it raised $95 million through a D Series funding round led by SINA (SINA). At that time, the company was valued at $1.1 billion. TuSimple has also attracted funding from NVIDIA (NVDA) and ZP Capital. The company is using NVIDIA GPUs and cameras for primary sensors in its autonomous trucks.
Article continues below advertisement
UPS's investment marks an extension of its relationship with TuSimple. According to its press release, "UPS has been providing truckloads of goods for TuSimple to carry on a North American Freight Forwarding route between Phoenix and Tucson, Arizona. The company initiated self-driving service in May, 2019, with a driver and engineer in the vehicle. TuSimple and UPS monitor distance and time the trucks travel autonomously, safety data and transport time."
Self-driving trucks to improve efficiency
For the past couple of years, UPS has been investing heavily in improving its service and efficiency across routes. Bringing self-driving vehicles could drastically reduce the company's operating expenses and help it render better services to customers. UPS chief strategy and transformation officer Scott Price said, "UPS is committed to developing and deploying technologies that enable us to operate our global logistics network more efficiently."
He was excited about TuSimple's advancements in braking and other technologies. Price said these technologies could offer significant safety benefits well ahead of fully automated trucks' launch.
Article continues below advertisement
In its press release, UPS said "The work with autonomous driving company TuSimple began with the goal of helping UPS better understand the requirements for Level 4 Autonomous trucking in its network. L4 Autonomous means the vehicle's onboard computer is in complete control at all times, eliminating manual intervention. Currently, however, laws regulating L4 Autonomous driving require a driver in the vehicle at all times to take over operation if needed."
To reduce operating expenses and carbon emissions, UPS is growing its fleet of electric vehicles. In 2017, the company ordered 125 fully electric trucks from Tesla (TSLA) at a contract price of $25 million. In February 2018, UPS purchased three medium-duty electric trucks from German automaker Daimler. Last year, it entered into a contract to buy 1,000 electric vans from Workhorse.
Article continues below advertisement
USP countering Amazon threat
UPS's latest investment reflects its awareness of the rising threat from Amazon (AMZN), which is also aggressively enhancing its logistics infrastructure. In the last few years, the e-commerce giant has increased its air cargo fleet to 70 and has added over 10,000 delivery vehicles. The company is also working with TuSimple to make its logistics vehicles fully autonomous. With enormous financial strength, Amazon is very capable of building a vast logistics infrastructure base in a few years.
According to Commercial Appeal, Morgan Stanley estimates UPS generates about 10% of its revenue from doing business with Amazon, which makes up nearly 15%–20% of UPS's total volume. As Amazon builds up a shipping infrastructure, its dependency on UPS could reduce over the next few years. Therefore, UPS's investments are strategic, to prepare itself ahead of time.
This year, UPS stock has gained 18.2%, outperforming the iShares Transportation Average ETF (IYT), which has risen 8.8%. IYT invests in Dow Jones US transportation stocks, and 20% of the fund is allocated to air freight and courier companies.