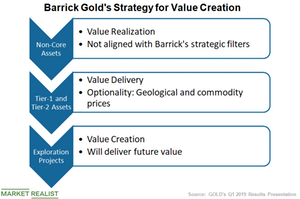 Barrick Gold's Strategy for Creating Shareholder Value
Review of Barrick's asset base
The Barrick Gold (GOLD) and Randgold Resources combined company intends to achieve sector-leading (GDX) (JNUG) returns. To achieve this, the company plans to review its asset base and decide whether to dispose of some of its assets. During Barrick Gold's Q1 2019 press release, CEO Mark Bristow said, "Barrick stands apart from the rest of the industry on four counts: the quality of our assets; our significant potential for portfolio optimization; the very real synergies that we expect to be delivered by Nevada Gold Mines; and our superior exploration and pipeline of development efforts."
Article continues below advertisement
Creating shareholder value
To create value for shareholders, Barrick has divided its assets across a curve. At the base of the curve are exploration programs and projects expected to deliver value, and at the middle of the curve are Tier 1 and Tier 2 assets, which deliver significant value and have more potential. At the top of the curve are non-core assets for which the company has started finding buyers. While these assets still offer value, the company thinks they don't have much leverage left.
Focus on Tier 1 assets
The company plans to focus more on Tier 1 assets and assets that can achieve that status. During Barrick Gold's Q3 2018 earnings call, executive chair John Thornton defined Tier 1 assets as those "producing more than 500,000 ounces per year, having mine lives greater than 10 years, and being in the lower half of the cash cost curve." Shareholder returns are driven by returns on invested capital, internal rates of return, and free cash flow per share growth.