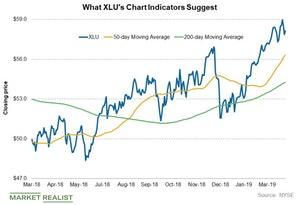 XLU: What Utilities' Chart Indicators and Short Interests Mean
By Vineet Kulkarni

Updated
Moving averages
Utility stocks seemed to have slowed a bit recently after peaking at all-time highs. The Utilities Select Sector ETF (XLU) briefly crossed ~$59.0 last week and then came down.
XLU is currently trading at $58.17, almost 3% and 7% above its 50-day and 200-day moving average levels, respectively. Its 50-day moving average of close to $56.3 could act as a support for it in the short term.
WAKE UP WITH BAGELS & STOX, OUR NEW EMAIL THAT ENTERTAINS AND INFORMS YOU BEFORE THE DAY STARTS. SIGN UP HERE!
XLU's RSI (relative strength index) was 52 at the end of last week, indicating that it was neither oversold nor overbought. After trading in the overbought zone for more than a month, many utility stocks (VPU) (IDU) seem stable, with their RSIs close to 50.
Article continues below advertisement
Short interest
The short interest in XLU increased by 3% on March 15. On February 28, there were 45.2 million shorted units in XLU, and its total number of shorted units was up at 46.7 million on March 15.
An increase in XLU's short interest suggests that more investors expect it to fall from its current level. Short interest represents the amount of a company's shares that have been sold short and not yet squared off.
XLU's short interest ratio is ~3x. The short interest ratio is the number of shares shorted and the average daily trading volume of a stock. The ratio shows how many days it might take to cover all of the open short positions in a stock.