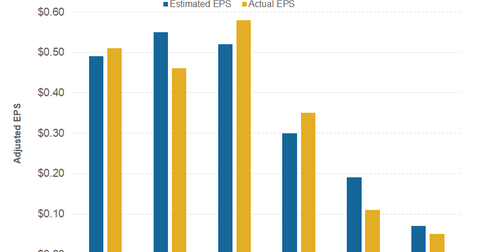 Freeport-McMoRan: Should Investors Prepare for a Sell-Off?
By Mohit Oberoi, CFA

Updated
Freeport-McMoRan's earnings
Freeport-McMoRan (FCX) reported its first-quarter earnings on April 25. The company reported an adjusted EPS of $0.05 in the quarter, which fell short of analysts' estimates. Freeport-McMoRan also missed the consensus revenue estimates in the first quarter. The company's first-quarter shipments were lower than its guidance. Freeport-McMoRan's unit cash costs were higher than its guidance in the fourth-quarter earnings call.
Article continues below advertisement
Investors who regularly follow Freeport-McMoRan might recall that the company missed the shipment and unit cash cost guidance in the fourth quarter as well. The company fell more than 13% after its fourth-quarter earnings miss. In pre-market trading, Freeport-McMoRan is trading ~2.5% lower on April 25.
2019 guidance
Freeport-McMoRan also raised its 2019 copper unit cash costs after by-product credits guidance to $1.75 per pound from the previous guidance of $1.73 per pound. Looking at the other key takeaways from Freeport-McMoRan's earnings release, the company provided some information about its long-term operating plans. Freeport-McMoRan is investing in its Grasberg operations to convert the mine to underground operations. In 2019 and 2020, Freeport-McMoRan's shipments and earnings are expected to take a hit due to the transition.
2021 operating plans
Freeport expects its copper shipments to rise to 4.2 billion pounds in 2021 from 3.3 billion pounds in 2019. The company's copper unit cash cost after by-product credit is also expected to fall to $1.30 per pound in 2021 from $1.75 per pound in 2019. The guidance assumes that Freeport-McMoRan's unit cash costs after by-product credits would average $0.30 per pound in Indonesia after it ramps up the production at its Grasberg mine.