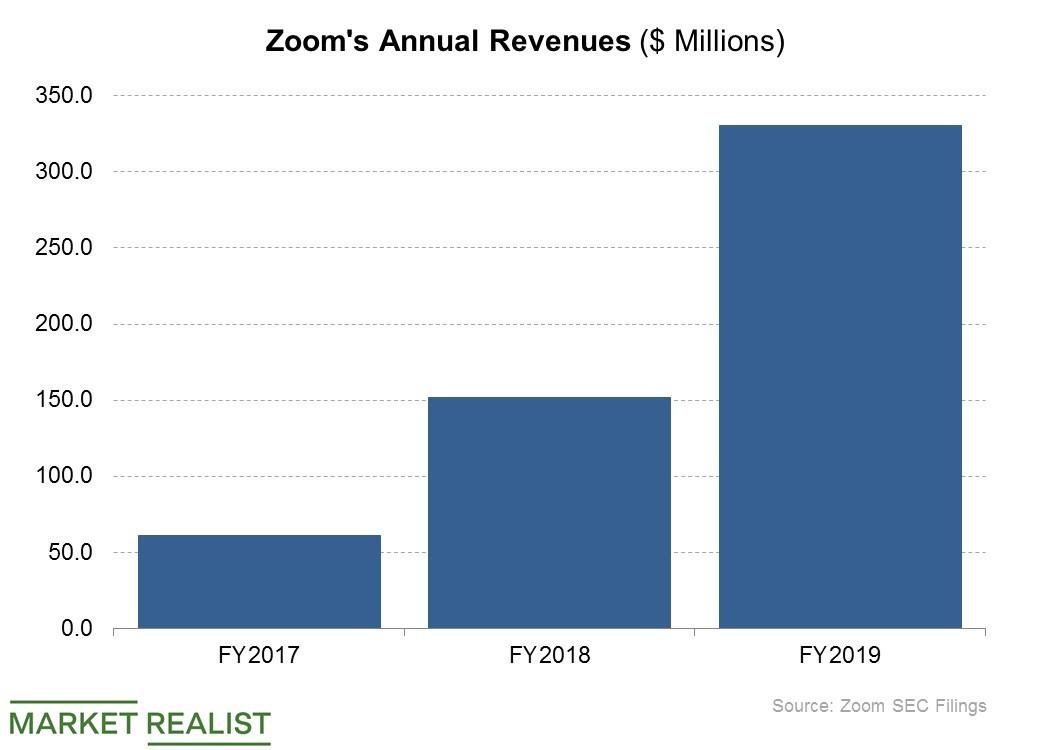 A Look at Zoom's Most Prominent Customers
Plans start at $15 per month
Zoom Video Communications (ZM) serves customers of all sizes, from sole businesses to Fortune 50 organizations. Zoom provides video chat services for companies, and its paid plans start at $15 per month.
In regulatory filings just before its IPO this month, Zoom named some of its largest customers across a variety of industries. The list included Wells Fargo (WFC), a banking giant that boasts close to 270,000 team members around the world. Zoom's other major customers include VMware (VMW), which has over 20,000 employees, Uber with ~16,000 employees, and Workday (WDAY) with over 8,000 employees. Some others are ServiceNow (NOW), which has over 6,000 employees, and Splunk (SPLK) with ~5,000 employees.
Article continues below advertisement
Loss of a single major customer won't put Zoom out of business
Zoom generated revenue of $330.5 million in fiscal 2019, doubling its revenue from the previous year. The company generated revenues of $151.5 million in fiscal 2018 and $60.8 million in fiscal 2017.
It revealed in its IPO documents filed with regulators that no single customer had represented more than 5.0% of its revenue in fiscal 2019, meaning that the loss of a single major customer won't lead to a material loss in its revenue. This situation contrasts sharply with that of semiconductor company Broadcom (AVGO), which disclosed in its latest annual regulatory filing that Apple alone had contributed 25% of its total revenue in fiscal 2018.