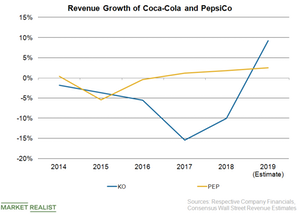 Will Coca-Cola and PepsiCo's Revenue Pick Up in 2019?
By Sirisha Bhogaraju

Mar. 29 2019, Published 3:12 p.m. ET
Performance in 2018
Coca-Cola's (KO) revenue declined for the sixth consecutive year in 2018 on a reported basis. The decline in the soda giant's revenue in recent years reflects the impact of currency headwinds and the refranchising of its bottling operations. Coca-Cola's revenue fell 10% to $31.9 billion due to a 16% negative impact from refranchising company-owned bottling operations and a 1% impact of adverse currency movements.
Excluding the impact of currency movements and structural items, Coca-Cola's organic revenue grew 5% in 2018, driven by a 3% rise in concentrate sales and a 2% favorable impact from the company's price and mix.
PepsiCo's (PEP) revenue grew 1.8% to $64.7 billion in 2018. Excluding the 1% negative impact of currency fluctuations and 1% impact of acquisitions and divestitures, PepsiCo's organic revenue grew 3.7% in 2018.
Article continues below advertisement
Are revenues expected to improve?
Coca-Cola expects its organic revenue growth to slow down to 4% in 2019 due to the potential impact of an uncertain macro environment, challenging conditions in several international markets, and adverse currency movements.
On a reported basis, analysts expect Coca-Cola's revenue to grow 9.3% to $34.8 billion in 2019. Higher pricing, innovation, and recent acquisitions are expected to drive Coca-Cola's reported revenue. To improve its revenue and volumes, Coca-Cola is offering innovative beverage options that cater to consumers' thirst for healthier drinks. Coca-Cola is also expanding the reach of successful brands like Smartwater to more markets, and it's promoting smaller beverage packages.
PepsiCo expects organic revenue growth of 4% in 2019. Analysts expect PepsiCo's revenue to rise 2.5% to $66.3 billion on a reported basis in 2019. PepsiCo's Frito Lay North America business has been its key growth driver. PepsiCo intends to improve its snack and beverage revenue by continuing to grow its core brands and innovating as well as acquiring new brands to capture new demand spaces.
However, weak soda volumes and currency headwinds are roadblocks to PepsiCo's top-line growth.