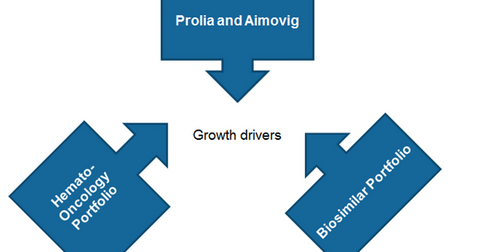 What's Expected to Drive Amgen's Growth in Fiscal 2019
By Margaret Patrick

Mar. 6 2019, Published 8:07 a.m. ET
Financial performance in fiscal 2018
In fiscal 2018, Amgen's (AMGN) revenue rose 4% YoY (year-over-year) to $23.75 billion, and its non-GAAP EPS rose 14% YoY to $14.40. In its fourth-quarter conference call, Amgen stated that it expects Prolia, Aimovig, its hemato-oncology franchise, and its biosimilar portfolio to be key growth drivers in fiscal 2019.
Article continues below advertisement
Growth drivers
In fiscal 2018, Prolia revenue rose 16% YoY to $2.29 billion. Amgen reported in its conference call that despite Prolia revenue growing robustly, the drug's penetration of the postmenopausal osteoporosis market remains in the mid-20% range. This penetration suggests Prolia's growth potential and that it could be a strong driver for Amgen in future years. To learn more about Prolia, read Amgen: Exploring Opportunities in the Bone Segment. 
Amgen launched its migraine prophylaxis drug, Aimovig, in US markets in fiscal 2018. It has recorded $119 million in sales and reached more than 150,000 patients. Additionally, at end of fiscal 2018, Aimovig emerged as the market leader among anti-CGRP (calcitonin gene-related peptide) drugs for migraine prevention. To learn more about Aimovig, read Amgen's Aimovig is Expected to Witness Steady Growth in 2018.
In fiscal 2018, Amgen's hematology and oncology sales rose 14% YoY to ~$4.40 billion, driven by robust demand for Xgeva, Kyprolis, Nplate, Blincyto, Imlygic, and Vectibix. In fiscal 2018, Amgen launched two biosimilars in US markets, Kanjinti and Amgevita. The company expects to rapidly advance its biosimilar portfolio in future years. To know about Merck (MRK), read What Are Merck's Key Growth Drivers for 2019?