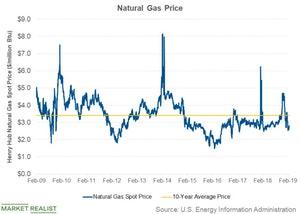 Natural Gas Prices: What to Expect in 2019
Natural gas prices
The EIA (U.S. Energy Information Administration) expects US natural gas prices to average $2.89 per MMBtu (million British thermal units) in 2019. For 2020, the forecast is $2.92 per MMBtu. The expected price is slightly lower than the average of $3.15 per MMBtu for 2018. The EIA expects gas prices to remain relatively stable over the next two years.
As the above graph shows, natural gas prices were relatively stable. Natural gas prices have been close to ~$3.0 per MMBtu over the last three years. The gas prices are mainly lower compared to the ten-year average price.
Article continues below advertisement
Natural gas production
The US natural gas production hit a record of 83.3 Bcf/d (billion cubic feet per day) in 2018. The EIA expects the production to rise to 90.2 Bcf/d in 2019. The production is estimated to rise to 92.2 Bcf/d in 2020.
Rising gas production and stable prices should bode well for midstream companies including Enterprise Products Partners (EPD) and Energy Transfer (ET).
While natural gas consumption is expected to increase marginally over the next two years, the increased production is expected to serve the exports market. There will likely be a major contribution from LNG (liquefied natural gas) exports.
US LNG exports
The EIA expects the US LNG exports to average 5.1 Bcf/d in 2019—up from an average of 3.0 Bcf/d in 2018. The LNG exports are expected to rise to an average of 6.8 Bcf/d in 2020.
The first four trains of Cheniere Energy's (LNG) Sabine Pass Liquefaction project are operational. The fifth train is in the commissioning stage. Cheniere Energy's MLP subsidiary Cheniere Energy Partners (CQP) operates the project. The first two trains of Cheniere Energy's Corpus Christi project are also in the commissioning stage.
Dominion Energy's (D) Cove Point LNG export facility started commercial operations in 2018. Kinder Morgan's (KMI) Elba Liquefaction project's first unit (of the total ten units) is expected to be placed in service at the end of the first quarter.