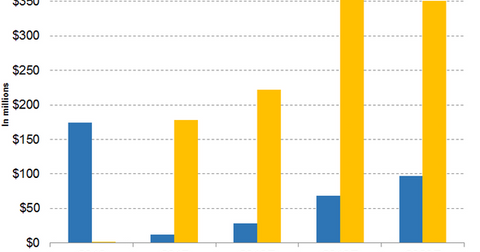 MNKD or AKBA: Which Is Expected to Report Faster Revenue Growth?
By Margaret Patrick

Updated
Growth trends
In its fourth-quarter earnings investor presentation, MannKind Corporation (MNKD) announced that Afrezza had seen fiscal 2018 net sales of $17.3 million, a YoY (year-over-year) rise of 88%.
In addition to its robust operational performance, the company also reduced its debt by 36% from $158 at the end of fiscal 2017 to $102 at the end of fiscal 2018—the lowest debt level for the company since fiscal 2006. This reduction, in turn, resulted in a 49% reduction in the company's interest expenses from $13.3 million in fiscal 2017 to $9.4 million in fiscal 2018. The company also improved its EPS from -$1.13 in fiscal 2017 to -$0.60 in fiscal 2018.
Article continues below advertisement
On December 13, 2018, Akebia Therapeutics (AKBA) issued a press release announcing the completion of its merger with Keryx Biopharmaceuticals. The new integrated renal company, called Akebia Therapeutics, currently has one commercialized asset, Auryxia, and one late-stage asset, Vadadustat. Auryxia is approved by the FDA in hyperphosphatemia indications for CKD (chronic kidney disease) patients who are on dialysis and in iron deficiency anemia indications for CKD patients not on dialysis.
Analysts' projections
In fiscal 2018, Mannkind reported total revenue of $27.86 million, a YoY rise of 137.20%. Wall Street analysts expect MannKind's revenues to be $68.52 million, $97.16 million, and $157.41 million, respectively, in fiscal 2019, fiscal 2020, and fiscal 2021. These expectations imply YoY revenue rises of 145.94%, 41.81%, and 62.01%, respectively.
On the other hand, Wall Street analysts expect Akebia Therapeutics' revenues to be $222.18 million, $357.35 million, and $351.06 million, respectively, in fiscal 2018, fiscal 2019, and fiscal 2020, implying YoY revenue changes of 24.83%, 60.84%, and -1.76%, respectively.
While Akebia Therapeutics is expected to report higher absolute revenue, Mannkind Corporation is expected to report higher revenue growth from fiscal 2018 to fiscal 2020.
Next, we'll discuss EPS projections for MannKind Corporation and Akebia Therapeutics in fiscal 2019.