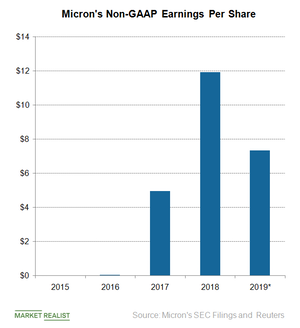 How Will 2019 Turn Out for Micron Stock?
By Puja Tayal

Mar. 19 2019, Updated 11:19 a.m. ET
What Micron's lower PE ratio means to investors
Micron's (MU) PE and price-to-free cash flow ratios are set to fall in fiscal 2019 as the industry downturn negatively affects its EPS and free cash flow.
Micron's profit is a product of its sales volumes, ASP (average selling price), and cost per bit. The current industry downtrend is reducing memory ASP, and macroeconomic weakness is reducing sales volumes. Micron's customers Intel (INTC) and NVIDIA (NVDA) have guided for significant revenue declines for the first half of 2019 due to weak demand, especially from China.
The only factor in Micron's control is the cost per bit, which it continues to reduce by investing in advanced process nodes.
Article continues below advertisement
Micron's fiscal 2019 EPS and free cash flow
According to DRAMeXchange, first-quarter PC DRAM (dynamic random-access memory) contract prices have fallen 30%. Micron's DRAM cost per bit falls at an average rate of 20% per year. As prices are falling faster than costs, analysts expect Micron's non-generally accepted accounting principles EPS and free cash flow to fall 38% and 26.5% year-over-year, respectively, in fiscal 2019.
However, analysts expect the company's EPS and free cash flow to be positive. Even in the worst-case scenario, Micron's free cash flow and EPS should reach breakeven, as it has improved its cost-competitiveness, which means any price cuts by its rivals shouldn't pull it into the red.
Recently, DigiTimes, citing unnamed sources, stated that Samsung (SSNLF) had significantly reduced its NAND (negative-AND) flash price in the first quarter of 2019 to help the supply chain absorb excess inventory between the end of March and early April. However, these cuts will negatively affect competitors' profits, as NAND prices will come close to costs.
The news sent Western Digital (WDC) and Intel down 2.88% and 1.7%, respectively, on March 14. Micron stock fell only 1.08%, as its cost leadership in 3D NAND will help it mitigate the effects of Samsung's price cuts. Micron stock will likely fall in the coming months—but not to the level of $10–$13 it saw in the 2016 downturn. Micron could be a good buy when the memory industry and macroeconomic environment show signs of growth.