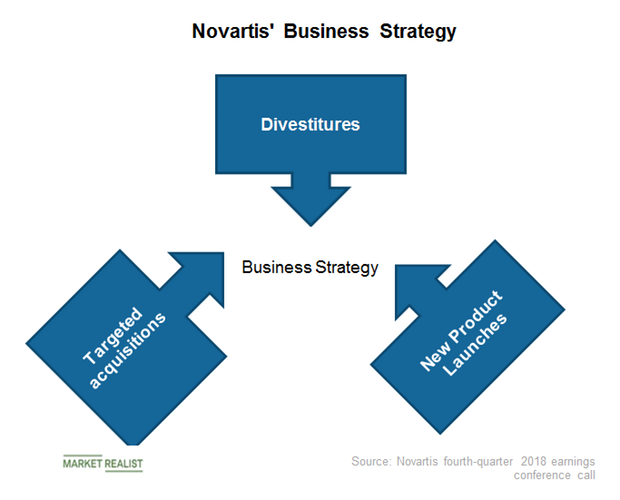 How Novartis Is Transforming Its Structure in 2019
By Margaret Patrick

Jul. 31 2019, Updated 2:53 p.m. ET
Business transformation
Since fiscal 2018, Novartis (NVS) has been focused on transforming itself into a new focused medicines company. According to the company's fourth-quarter earnings investor presentation, to attain this objective, the company has announced the divestiture of several of its businesses, bolt-on M&As (mergers and acquisitions) worth almost $15.0 billion, and more than 100 collaboration and licensing deals in fiscal 2018.
Article continues below advertisement
Business strategy
On March 27, 2018, GlaxoSmithKline issued a press release announcing its agreement to purchase Novartis's 36.5% stake in the consumer healthcare joint venture for a consideration of $13.0 billion, followed by Novartis's announcement of its intent for a tax-neutral and 100% spin-off of Alcon, which is expected to complete in the second quarter of 2019, in June 2018. In September 2018, Novartis announced its agreement to sell off certain select businesses in Sandoz's US portfolio to Aurobindo Pharma USA, which in turn would lead to a leaner cost structure for Sandoz. In October 2018, Novartis issued a press release announcing an agreement to license three infectious drug candidates to Boston Pharmaceuticals.
While these divestitures are expected to improve overall efficiency for Novartis, the company is also focused on targeted deals for building new technology platforms. According to the company's fourth-quarter earnings investor presentation, Novartis acquired Avexis and entered a licensing arrangement with Spark Therapeutics to bolster its position in the Gene Therapy segment. The company has offered to acquire CellforCure and entered a licensing agreement with Cellular Biomedicine Group to boost its manufacturing capacity for CAR-T cell therapies. Finally, Novartis also acquired Accelerator Applications and Endocyte to establish itself in the radioligand therapy segment.
According to the company's fourth-quarter earnings investor presentation, Novartis has planned for the launch of more than ten potential blockbuster therapies by 2020. In fiscal 2018, the company launched Aimovig in the migraine indication, Kymriah in DLBCL (Diffuse large B-cell lymphoma) indication, and Lutathera in the NET (neuroendocrine tumor) indication. In fiscal 2019, the company plans to launch BYL719 for advanced breast cancer, Mayzent for SPMS (secondary progressive multiple sclerosis), RTH258 for nAMD (neovascular age-related macular degeneration), and Zolgensma for SMA (spinal muscular atrophy) Type 1.
To know about the change in the structure of Bristol-Myers Squibb (BMY), please read Bristol-Myers Squibb to Acquire Celgene.