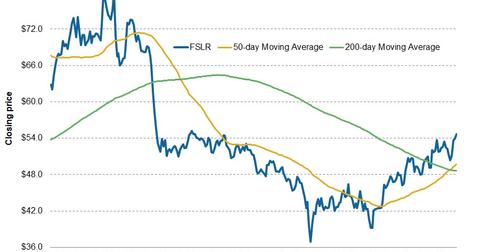 First Solar's Must-Know Indicators and Short Interest
By Vineet Kulkarni

Updated
Moving averages
First Solar (FSLR) stock is currently trading at $54.71. The strength in the stock is underlined by its fair premium to both its key support levels. FSLR's 50-day level recently passed its 200-day moving average, which is called the "golden cross." Technical analysts consider it a bullish signal for the stock. In the short term, First Solar's 50-day moving average, close to $49.71, could act as a support for the stock.
Article continues below advertisement
Relative strength index
First Solar stock is trading on the verge of the overbought zone with its RSI at 69. The RSI takes up values from 0 and 100. An RSI below 30 indicates that a stock is in the oversold zone while an RSI above 70 indicates that a stock is in the overbought zone. An RSI at either extremes suggests a reversal in a stock's direction. SunPower's (SPWR) RSI was 62 and Sun Run's (RUN) RSI was 37 as of March 13.
Short interest
The short interest in First Solar stock increased 2% on February 28. On February 14, there were 10.48 million shorted shares in First Solar while the total shorted shares increased to 10.64 million on February 28.
A rise in the stock's short interest could indicate that more investors expect it to fall from the current price level. Short interest implies the number of a company's shares that have been sold short and not squared off yet.
First Solar stock is currently trading 33% below its 52-week high of $81.7 in April last year, and it has rallied approximately 50% since its 52-week low of $36.5 in October.