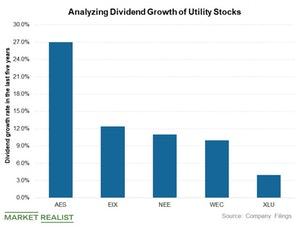 AES, NEE, and EIX: Ranking Utilities by Dividend Growth
By Vineet Kulkarni

Mar. 11 2019, Updated 2:41 p.m. ET
Dividend growth
Utilities at large have grown at about 4% compounded annually in the last five years, which facilitated their dividend growth around similar levels in this period. However, some of the utility names significantly outpaced this dividend growth.
Competitive utility AES (AES) increased its dividend by more than 25% in the last five years. It started paying dividends to shareholders in 2012. AES operates in almost 17 countries and thus has less stable earnings. AES offers a yield of 3.1%.
Article continues below advertisement
Earnings-enabled dividend growth  
Edison International (EIX), a California-based utility, managed to increase its per-share dividend by ~12% in the last five years, notably higher than peers' average. It is trading at a yield of 3.9%. Edison International has increased its dividend for 15 consecutive years. Read why Edison International underperformed recently despite superior dividend growth.
NextEra Energy (NEE), the biggest utility by market cap, notably outperformed broader utilities (XLU) in terms of dividend growth. It increased dividends by ~11%, the highest among top utilities, and yields 2.7%. Its superior earnings growth enabled higher dividend growth over the last few years. WEC Energy Group (WEC) increased dividends by 10% in the last five years. WEC yields 3.1%.
Top utilities Southern Company (SO) and Duke Energy (DUK) raised their dividends by 3% in the last five years, lower than peers' average. Both these utilities, despite being high yielding stocks, significantly underperformed peers in terms of total returns. Read Top Utilities: Analyzing the Total Returns.