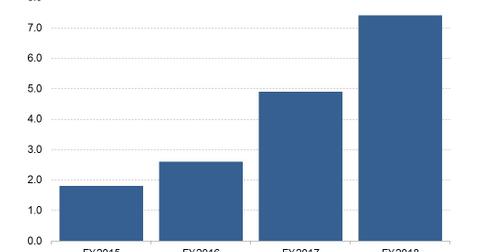 Where Apple's Cash Stockpile Stands Now
By Ruchi Gupta

Updated
Apple's cash stockpile swells
Apple (AAPL) is one of the American multinationals that took advantage of the United States tax law reform in 2017 to repatriate the profits it had accumulated in offshore accounts. The tax law reform lowered the corporate tax rate on both repatriated foreign profits and domestic profits.
Apple exited the December quarter with $245 billion in cash, up from $237 billion at the end of the September quarter. Microsoft (MSFT) and Alphabet (GOOGL) held $127.7 billion and $109.4 billion in cash stockpiles, respectively, at the end of the December quarter. Facebook (FB) held $41.1 billion in cash, and Amazon (AMZN) had $32.2 billion in cash at the end of the December quarter.
Article continues below advertisement
How Apple spends its cash
Apple spends its cash on various programs from buying land for new campuses to repurchasing its shares to put money back in the pockets of its shareholders. Apple owned 7,376 acres of land at the end of its fiscal 2018. The company in December announced plans to invest $1.0 billion to set up a new campus in Austin, Texas. As for putting back money in the pockets of shareholders, Apple is underway with a program to repurchase up to $100 billion of its shares. It also pays dividends.
Net cash neutral position
Since Apple has some outstanding borrowings, its net cash was $130 billion at the end of the December quarter. The company's goal is to achieve a net cash neutral position, which explains its aggressive shareholder capital return program.