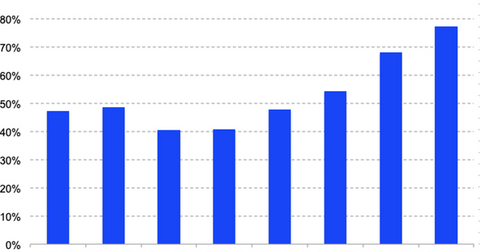 Should You Look beyond FAANG Stocks for Returns?
By Sanmit Amin

Updated
The cloud infrastructure space is growing relentlessly
The FAANG stocks (Facebook, Amazon, Apple, Netflix, and Google) have all been showing signs of slowing down in the last couple of quarters after years of breathtaking growth. As the growth in mature tech stocks slows down, investors have been looking for smaller, faster-growing tech companies. One such space that's seeing tremendous growth is cloud computing.
According to Canalys, global cloud infrastructure spending climbed 46.5% annually to $80.4 billion last year and is showing no signs of slowing down. The tremendous growth of cloud infrastructure and software-as-a-service has caused smaller cloud companies to not only outperform broader markets but also FAANG stocks over the last year.
Article continues below advertisement
Smaller cloud-based stocks have seen exceptional returns
Twilio (TWLO) and Workday (WDAY), for example, have seen astronomical returns and performed well even when markets turned bearish in December. Twilio is up a phenomenal 408.6% since February 5, 2018. Meanwhile, Workday is up 54.1% in the last 12 months.
Twilio, a cloud communication company whose technology is used in messaging apps like WhatsApp and Slack, has posted exceptional growth in the last few quarters. During the last quarter of 2018, Twilio reported revenue of $204.3 million, a 77.3% increase from the same quarter in 2017.
It may be time to look outside the FAANG group for returns. Companies exposed to tomorrow's technology like cloud computing, AI (artificial intelligence), Internet of Things, to name a few, deserve attention.
However, investors must be willing to pay a premium now to get hold of these stocks. Twilio, for example, is currently trading at 26.9x its trailing-12-month book value. In comparison, Amazon (AMZN), a much bigger and diverse company, is trading at 18.4x its book value.