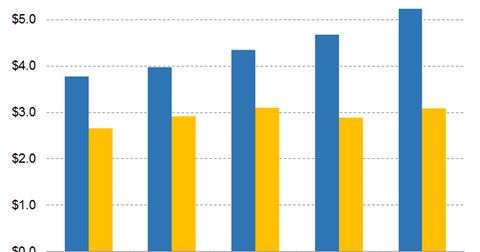 MRK or GSK: Which Is Expected to Report Faster EPS Growth?
By Margaret Patrick

Updated
EPS guidance for 2019
On its fourth-quarter earnings conference call, Merck & Co. (MRK) guided for non-GAAP (generally accepted accounting principles) EPS of $4.57–$4.52 in 2019, a YoY (year-over-year) rise of 5%–9%. This projection assumes an unfavorable foreign exchange impact of 100 basis points on its YoY EPS growth rate. The company also expects its average diluted share count to be 2.58 billion in 2019. It expects a flat gross margin performance in 2019.
Article continues below advertisement
In its fourth-quarter earnings press release, GlaxoSmithKline (GSK) guided for a 5%–9% YoY fall in its non-GAAP EPS at a CER (constant exchange rate) in 2019. According to the company's fourth-quarter earnings investor presentation, this drop is expected to be partly attributable to the entry of a generic version of Advair, Wixela Inhub, into the US market as well as to the disposal of the company's consumer healthcare nutrition business in India, which is expected to happen by the end of 2019. On December 19, 2018, GlaxoSmithKline and Pfizer (PFE) announced a joint venture deal to combine their respective consumer healthcare businesses and form a consumer healthcare company. This deal, which is expected to close in the second half of 2019, is expected to have a negative impact on GlaxoSmithKline's 2019 EPS.
In May 2015, GlaxoSmithKline provided guidance for its adjusted EPS to grow at a mid- to high-single-digit percentage CAGR (compound annual growth rate) from 2016 to 2020 at a CER. However, in its Tesaro acquisition investor presentation, the company revised its adjusted EPS projection for 2016–2020 to the lower end of the mid- to high-single-digit percentage CAGR as a financial impact of the deal.
Wall Street's projections
Analysts expect Merck's non-GAAP EPS to rise 2.69% YoY to $1.08 in the first quarter, 7.84% YoY to $4.68 in 2019, 11.74% YoY to $5.23 in 2020, and 13.15% YoY to $5.92 in 2021.
Analysts expect GlaxoSmithKline's non-GAAP EPS, expressed in dollars, to fall 7.25% YoY to $0.64 in the first quarter and 7.11% YoY to $2.88 in 2019 but then rise 7.17% YoY to $3.09 in 2020 and 15.86% YoY to $3.58 in 2021.
Wall Street analysts expect Merck to grow its EPS at a faster rate than GlaxoSmithKline until 2021.
Next, we'll discuss expense projections for Merck and GlaxoSmithKline in 2019.