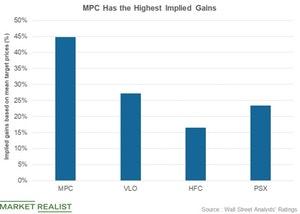 HFC and PSX: Which Company Could Post the Most Gains?
Analysts' recommendations
In the previous part, we discussed analysts' ratings for refiners after their fourth-quarter earnings. We compared analysts' overall ratings for Marathon Petroleum (MPC), Valero Energy (VLO), HollyFrontier (HFC), and Phillips 66 (PSX). We also discussed analysts' rating for Marathon Petroleum and Valero Energy. In this part, we'll discuss analysts' ratings for HollyFrontier and Phillips 66.
Article continues below advertisement
HollyFrontier
After HollyFrontier's earnings, RBC lowered its target price on the stock from $68 to $66. Cowen and Company, which has a "market perform" rating on the stock, reduced its target price from $68 to $60. HollyFrontier's mean target price of $64 per share represents a 16% gain from the current level.
Many analysts rated HollyFrontier as a "hold" due to its earnings growth prospects. Analysts expect the company's earnings to fall 9% in 2019. The fall is likely due to the expected weakness in the company's refining earnings and the possibility of lower lubricant earnings in 2019. The fall is driven by narrowing oil spreads and weakening base oil cracks.
Phillips 66
After Phillips 66's earnings, RBC raised its target price on the stock from $102 to $104. Phillips 66's mean target price of $119 per share implies an ~23% gain from the current level.
Phillips 66 posted a strong set of numbers for 2018. Phillips 66's earnings rose across its business segments. The company has created an integrated yet diversified business model. Phillips 66 has growth projects in the midstream segment and modernization projects in the refining segment, which should drive the company's earnings. Phillips 66 has a comfortable debt position. The company's liquidity position has also improved.