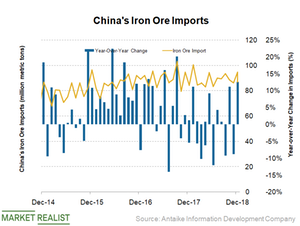 Why China's Iron Ore Demand Could Soon Weaken
Customs data and China's iron ore imports
As China consumes more than 70% of seaborne-traded iron ore, it's imperative for iron ore investors to track the country's demand and outlook. According to Reuters, China's iron ore imports fell for the first time since 2010 last year, by 1% YoY (year-over-year) to 1.064 billion tons. In December, China's iron ore imports rose 2.8% YoY to 86.65 million tons but were almost flat month-over-month.
Article continues below advertisement
Outlook remains dull
Eventually, iron ore demand had to catch up to China's weakening fundamentals. As we'll discuss later in the series, Chinese steel mills are facing narrowing margins, which is curbing their restocking demand. Moreover, due to their narrower margins, Chinese mills have now switched to lower-grade ore. Major miners (XME) BHP (BHP), Rio Tinto (RIO), and Vale (VALE) produce high-grade materials, and their premium is falling. However, Vale believes that higher-grade material's premium is here to stay.
Most market participants agree that China's iron ore imports could grow slowly in the years ahead, mainly due to the country's high base and steel overcapacity. US-China (QQQ) (VTI) (MCHI) trade issues are also expected to affect the Chinese economy, impacting all sectors.