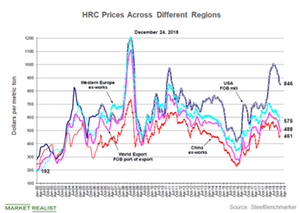 What China's Steel Price Trends Could Mean for Iron Ore Miners
China's steel prices
Bumper margins prompted Chinese steel mills to continue increasing their output. In 2017, Chinese steel prices rose ~30%, and they remained buoyant until last year's third quarter. However, as steel production exceeded demand, steel prices weakened. There are many signs pointing toward the Chinese economy slowing further. While mills usually restock ahead of Chinese New Year, restocking demand has been poor this year due to weaker demand outlook.
Article continues below advertisement
Supply-demand mismatch
Whereas steel's supply remains plentiful, domestic and global steel demand has been weakening, pressuring prices. Although the 90-day US-China trade truce initially improved Chinese steel market sentiment, steel supply strengthened and growth weakened further, resuming demand's slump.
This trend could be negative for seaborne suppliers (XME) Rio Tinto (RIO), BHP (BHP) (BBL), and Vale (VALE), which came under increased pressure when iron ore prices fell off a cliff in 2014. Cleveland-Cliffs (CLF), on the other hand, has other drivers—namely US (DIA) steel market dynamics.