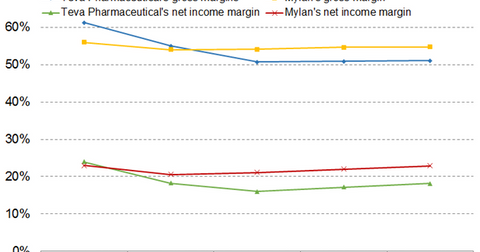 Teva Pharmaceutical or Mylan: Which Company Has Higher Margins?
By Margaret Patrick

Updated
Long-term targets
According to Teva Pharmaceutical's (TEVA) J.P. Morgan Healthcare Conference investor presentation, it has an operating margin target of 30%, a cash-to-earnings percentage target of more than 80%, and a net debt-to-EBITDA target of below 3x for the next three to five years. The company also plans to achieve a net debt-to-EBITDA ratio of below 4x by the end of 2020.
According to the company's presentation transcript, it plans to create shareholder value by focusing on reducing its debt levels rather than raising additional equity. It also plans to focus on the ongoing launch of Ajovy and Austedo to drive its future revenue growth. The increased adoption of these products could help partially offset the impact of the challenges arising from its loss of exclusivities for Copaxone, bendamustine, and ProAir HFA.
Article continues below advertisement
Mylan (MYL) also has a well-diversified portfolio across a variety of product categories and geographies. In its third-quarter earnings investor presentation, Mylan said that it expected its North American revenue to fall in the mid-teens in terms of percentage. Its Europe and the Rest of World revenues are expected to rise in the high single digits year-over-year.
Margin projections
Wall Street analysts expect Teva Pharmaceutical's gross margins to be 50.75%, 50.87%, and 51.10%, respectively, in 2018, 2019, and 2020. On the other hand, analysts expect Mylan to report gross margins of 54.12%, 54.61%, and 54.71%, respectively, in 2018, 2019, and 2020.
Analysts also expect Teva Pharmaceutical's adjusted net income margins to be 16.04%, 17.14%, and 18.13%, respectively, in 2018, 2019, and 2020. They expect Mylan to report adjusted net income margins of 21.09%, 22.03%, and 22.92%, respectively, in 2018, 2019, and 2020.
Mylan is thus expected to report higher profit margins than Teva Pharmaceutical from 2018 to 2020.
In the next article, we'll compare the cost structures of Teva Pharmaceutical and Mylan in greater detail.