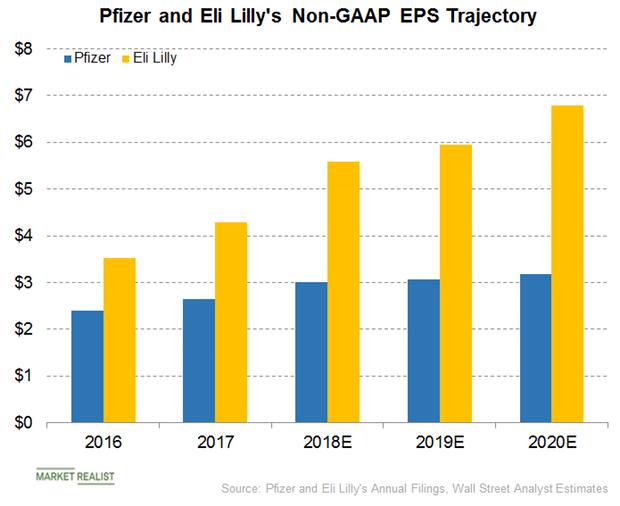 Pfizer or Eli Lilly: Whose Earnings Are Seeing Better Growth?
By Margaret Patrick

Jan. 8 2019, Updated 7:30 a.m. ET
Earnings guidance
On its third-quarter earnings conference call, Pfizer (PFE) said that it expected its 2018 adjusted EPS to be in the range of $2.98–$3.02, narrower than its previously projected guidance of $2.95–$3.05. However, the midpoint of its updated EPS guidance is the same as the midpoint of its previous guidance range and implies 13% YoY (year-over-year) growth.
In a press release issued on December 19, 2018, Eli Lilly and Company (LLY) revised its 2018 GAAP (generally accepted accounting principles) EPS guidance from its previously projected range of $3.04–$3.09 to $2.80–$2.85. The company, however, reiterated its 2018 non-GAAP EPS guidance of $5.55–$5.60, which implied a YoY rise of 30%–31%.
In the release, Eli Lilly also forecast 2019 GAAP EPS and non-GAAP EPS guidances of $5.52–$5.62 and $5.90–$6.00, respectively. According to the press release, these forecasts didn't include the company's $0.08 per share noncontrolling interest in Elanco Animal Health.
Article continues below advertisement
Wall Street estimates
Wall Street analysts expect Pfizer's non-GAAP EPS to be $3.00, $3.07, and $3.18, respectively, in 2018, 2019, and 2020, implying YoY growth rates of 13.31%, 2.40%, and 3.47%, respectively, for the years.
On the other hand, analysts expect Eli Lilly's non-GAAP EPS to be $5.58, $5.95, and $6.79, respectively, in 2018, 2019, and 2020, implying YoY growth rates of 30.46%, 6.55%, and 14.18%, respectively, for the years.
Eli Lilly has a lower revenue base than Pfizer, but it continues to report higher absolute non-GAAP EPS figures. Eli Lilly is also expected to report higher YoY EPS growth rates than Pfizer from 2018 to 2020.
In the next article, we'll compare Pfizer's and Eli Lilly's margins in greater detail.