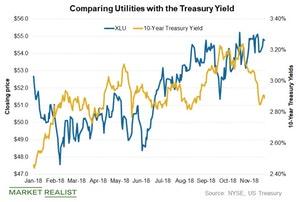 Comparing Utilities and Treasury Yields
Utilities versus Treasury yields
The benchmark ten-year Treasury yield trended lower and changed from 2.68% to 2.66% last week. Utility stocks and Treasury yields usually trade inversely to each other. The ten-year Treasury yield crossed 3.2% in November. Utilities fell more than 3% during this period.
Utilities outperformed broader markets last year. In 2018, there was the highest number of quarter-point interest rate hikes from the Fed since it started rate normalization in 2015.
Higher interest rates dent utilities due to their heavy capital expenditure needs. Utilities (XLU) usually carry large amounts of debt on their books. Higher interest rates increase utilities' debt-servicing costs, which ultimately damages their profitability.
Article continues below advertisement
Utility stocks (VPU) (IDU) are usually seen as bond substitutes due to their steady dividend payments. Higher interest rates could make utilities less appealing compared to bonds. So, we usually see investors selling utility stocks and switching to bonds in order to obtain higher yields when rates rise.
To learn how the top utility stocks played out recently and how they're placed for 2019, read How Top Utility Stocks Are Placed at the Beginning of 2019.