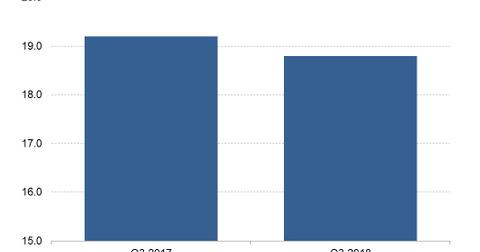 What's Next for IBM after It Sells Its Software Assets?
By Ruchi Gupta

Updated
HCL Technologies paying $1.8 billion for IBM assets
IBM (IBM) announced earlier this month that it had struck an agreement to sell some of its software assets to Indian IT services company HCL Technologies for $1.8 billion. The sale of the assets would see IBM exit a market worth more than $50 billion per year. Is it a prudent decision for IBM to take itself out of a $50 billion market?
Recently, IBM has sought to modernize its business, leading it to focus more on emerging technologies such as cloud computing, AI, and the blockchain.
Article continues below advertisement
Bolstering its competitive position in the cloud market
IBM is one of the world's top three cloud companies, but it has struggled to keep up with the competition. According to a report from Synergy Research, IBM shed 0.5% of its global cloud market share in the third quarter. In contrast, Amazon (AMZN) and Microsoft (MSFT) grew their global cloud market shares 1.0% and 2.5%, respectively, in the quarter. In what's being viewed as an attempt to bolster its competitive position in the cloud market, IBM is in the process of acquiring Red Hat (RHT) for $34 billion.
In the blockchain space, IBM has built a blockchain-based food-tracking platform, which has been adopted by large retailers such as Walmart (WMT) to help trace the origin of their food supplies. The global blockchain technology market is expected to generate $7.6 billion in revenue by 2024, according to Grand View Research.
Creating room to focus on new businesses
Selling its legacy software assets could create more room for IBM to focus on building its new businesses as it pursues what its management has described as a "high-value model," which requires ongoing investment prioritization. IBM's revenue fell 2.1% year-over-year to $18.8 billion in the third quarter.