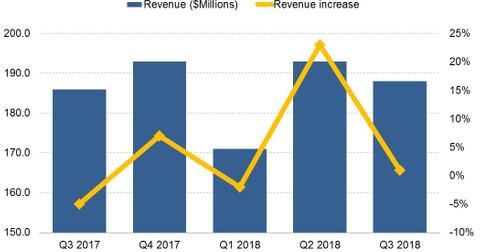 What's Next for Facebook after the Zenimax Settlement?
By Neha Gupta

Updated
Oculus emerged at the top of the industry
Facebook (FB) and ZeniMax have settled their legal differences centering on copyright infringement and the alleged theft of trade secrets, according to CNBC. With the dispute out of the way, Facebook now wants to focus more on building the future of Oculus, its virtual reality subsidiary. ZeniMax specifically targeted Oculus in its lawsuit, alleging trade secret theft and copyright violations.
Oculus makes VR (virtual reality) headsets and related software. It has several VR headsets on the market already with more to come. In the third quarter, Oculus emerged as the top VR headset company worldwide after it shipped 491,000 headsets and captured a 25.9% market share, according to IDC.
Article continues below advertisement
ZeniMax's original $500 million award has halved
Facebook acquired Oculus for $2.0 billion in 2014 in a move that was widely viewed as part of its efforts to diversify its business outside advertising, which currently accounts for the vast majority of its revenue.
Shortly after Facebook acquired Oculus, ZeniMax struck it with a lawsuit alleging the theft of trade secrets by former employees who had left to work for Oculus. Last year, a jury sided with ZeniMax in its claims against Oculus and awarded it $500 million. However, Facebook appealed the award. In June this year, a US federal court in Texas reduced the award to $250 million, Reuters reported. The settlement came after Oculus appealed the June decision of the Texas court. The terms of the settlement have not been disclosed.
Facebook generated $188 million in non-advertising revenue
Oculus is part of Facebook's non-advertising division, where its revenue rose 1.0% YoY (year-over-year) to $188 million in the third quarter. Twitter (TWTR), Alphabet (GOOGL), and Baidu (BIDU) grew their non-advertising revenues 25%, 29.7%, and 80% YoY, respectively, in the third quarter. Yelp's (YELP) non-advertising revenue fell 60.9% YoY in the third quarter.