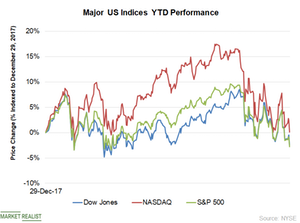 What Triggered the Broader Market Sell-Off in December?
US indices fell
Since the beginning of December, the broader US market has been registering a massive sell-off. The Dow Jones Industrial Average, the NASDAQ, and the S&P 500 have lost 5.6%, 5.7%, and 5.8% of their respective value in December.
The sell-off was industry-wide. Apple (AAPL), Boeing (BA), Goldman Sachs (GS), and Nike (NKE) fell 7.3%, 8.1%, 9.4%, and 3.4%, respectively. The SPDR S&P 500 ETF Trust (SPY), which tracks the performance of stocks in the S&P 500, has declined more than 5.5% in December. YTD (year-to-date), the Dow Jones Industrial Average and the S&P 500 have fallen 2.5% and 2.8%, respectively. The NASDAQ Index is almost flat on a YTD basis.
Article continues below advertisement
Article continues below advertisement
The broader market sell-off started on December 1 when Huawei Technologies' CFO Meng Wanzhou was arrested by Canadian authorities. The arrest raised concerns that trade relations between the US and China might get worse. China criticized the arrest. On December 6, Chinese officials demanded a clarification about the detention from the US and Canadian governments.
The timing of the arrest made investors suspicious about whether a trade dispute deal between the US and China will happen in the near future. During the meeting on December 1 in Argentina, President Trump and President Jinping announced a tariff truce.
The market sentiments were impacted negatively due to concerns about China's economic growth. Analysts think that the demand across the world's second-largest economy will likely remain sluggish in the near term.
Weaker-than-expected US labor market growth data for November made investors cautious about the slowing US economy. According to a report from the Bureau of Labor Statistics, although jobless claims remained at a 49-year low of 3.7% in November, the growth in new jobs was below the expectations. The economy added 155,000 new jobs in November, which was much lower than Bloomberg's estimates of 199,000.
Market YTD through November
Despite strong US economic growth, major US indices have remained in the negative territory for most of 2018. There have been concerns about a war between the US and North Korea, trade tensions with China, President Trump's higher import tariffs, interest rate hikes, and increased oil prices.
However, the market bounced back in November. The Dow Jones Industrial Average, the NASDAQ, and the S&P 500 gaining 1.7%, 0.3%, and 1.8%, respectively. The rebound was mainly due to easing relations with North Korea, the expectation of a favorable trade dispute deal with China, and oil prices cooling off. Strong quarterly results from most US companies instilled investors' confidence in the stock market.