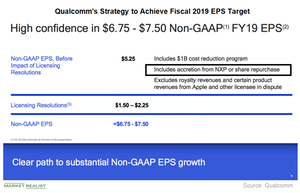 How Successful Has Qualcomm's $30 Billion Buyback Been?
Qualcomm's headwinds
Qualcomm (QCOM) is a leader in the mobile market, with its chips powering 95% of the world's smartphones. The company also licenses its technology to mobile other equipment manufacturers, generating strong profits and cash flow. However, its licensing business has been troubled since 2017, when Apple (AAPL) filed a lawsuit against Qualcomm and halted royalty payments. In the ongoing battle, Apple ditched Qualcomm's modems in its 2018 iPhones, reducing Qualcomm's EPS by 14% year-over-year in fiscal 2018 (ended in September).
Amid the Apple headwinds, Broadcom (AVGO) made a hostile takeover bid for Qualcomm, but the deal was blocked by Donald Trump. Despite avoiding the Broadcom takeover, Qualcomm was pressured by shareholders to grow its EPS.
Article continues below advertisement
Qualcomm was looking to diversify its revenue stream and boost its EPS with the acquisition of automotive chip giant NXP Semiconductors (NXPI). However, Qualcomm then walked out of the acquisition as the deal was stalled by the US-China (FXI) trade war, and paid a $2 billion termination fee to NXP. To compensate shareholders for the failed acquisition, Qualcomm announced a $30 billion accelerated stock buyback to increase its EPS.
Qualcomm's $30 billion stock buyback
In fiscal 2018's fourth quarter, Qualcomm reduced its share count to 1.41 billion by repurchasing 254.6 million shares for $21.14 billion. This accelerated buyback was accretive to Qualcomm's EPS in the fourth quarter of fiscal 2018. Sequentially, its non-GAAP net income fell 13.3%, and its EPS fell 10.9% due to its lower share count.
Qualcomm expects to reduce its diluted share count to 1.19 billion to 1.2 billion by the end of fiscal 2019. The company expected to report EPS of $5.25 in fiscal 2019 with the help of the stock buyback and cost cutting, but this target looks difficult to achieve under the current circumstances. Analysts expect the company to report EPS of $3.90 in fiscal 2019.
Clouded by headwinds, Qualcomm's buyback may not be delivering its desired results. In contrast, Broadcom's buyback program revived investor confidence this year, which we'll look at next.
Check out all the data we have added to our quote pages. Now you can get a valuation snapshot, earnings and revenue estimates, and historical data as well as dividend info. Take a look!