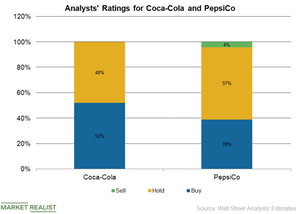 Coca-Cola and PepsiCo: Analysts' Recommendations
Analysts' recommendations
On December 13, PepsiCo (PEP) stock rose 1.2%. UBS initiated coverage with a "neutral" rating and a target price of $123. PepsiCo stock has a "hold" recommendation from 57% or 13 out of the 23 analysts. Nine analysts rate PepsiCo stock as a "buy," while one analyst has a "sell" recommendation.
Coca-Cola (KO) stock has a "buy" recommendation from 52% or 13 out 25 analysts covering the company, while 12 analysts have a "hold" rating.
Article continues below advertisement
As we mentioned in Part 1 of this series, Coca-Cola stock has risen 7.8% on a year-to-date basis, while PepsiCo has fallen 1.3%. As of December 13, the 12-month average target price for PepsiCo was $116.21. The price estimate indicates another downside of 2%. The average target price for Coca-Cola is $51.76, which indicates an upside potential of ~5%.
Growth prospects
Coca-Cola and PepsiCo are market-leading companies in the global non-alcoholic beverage space. The companies have a presence in more than 200 countries. Coca-Cola has an extensive portfolio of over 500 brands. Coca-Cola has 21 brands that generate more than $1 billion in annual retail sales. The brands include Coca-Cola, Powerade, Dasani, and Sprite.
PepsiCo's strong snack food and beverage portfolio includes 22 billion-dollar brands like Pepsi, Lay's, Gatorade, Tropicana, Quaker, Aquafina, and Doritos.
PepsiCo and Coca-Cola are transforming their portfolios by lowering the sugar levels in their beverages. The companies are introducing several no-sugar versions too. PepsiCo and Coca-Cola also expanding their non-carbonated beverage portfolios to offer healthier drink choices.
Aside from investing in innovation, Coca-Cola and PepsiCo are making several acquisitions to enhance their beverage portfolios. Coca-Cola has been aggressively entering strategic deals. Coca-Cola's most notable deal is the $5.1 billion acquisition of Costa Coffee. The acquisition was announced in August. Coca-Cola has also purchased a stake in BodyArmor's sports drink, Organic & Raw Company, which owns the MOJO Kombucha brand, and Made Group, which makes pulp-pressed juice and protein smoothies. On December 5, PepsiCo announced the completion of its acquisition of SodaStream.
One of the interesting developments in the beverage space is CBD-infused beverages. With the passing of the farm bill, hemp—the source of CBD—is legalized, which benefits companies like New Age Beverages. Coca-Cola and PepsiCo might look into this area for more growth.