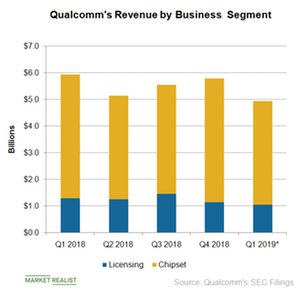 What Factors Influenced Qualcomm's 2018 Revenue?
Qualcomm's revenue
So far in this series, we've learned that Qualcomm (QCOM) has cleared up several uncertainties surrounding its future growth prospects. For instance, it withdrew from its acquisition of NXP Semiconductors (NXPI) and fended off its acquisition by Broadcom. Qualcomm also lost modem orders for Apple's (AAPL) new iPhones amid an ongoing licensing dispute.
Although these actions removed uncertainty from Qualcomm's business, they had a negative impact on the company's fiscal 2018 fourth-quarter earnings and guidance.
In the fourth quarter of fiscal 2018, Qualcomm's revenue fell 3.3% YoY (year-over-year) but rose 3.6% sequentially to $5.8 billion, higher than analysts' consensus estimate of $5.5 billion and on the higher end of its guided range.
The company's sequential revenue growth was driven by better-than-expected demand from Chinese (FXI) customers, which drove Qualcomm's chipset revenue nearly 14% sequentially. Strong chipset demand slightly offset the 22% sequential decline in Qualcomm's licensing business.
Article continues below advertisement
Factors affecting Qualcomm's revenue
The nonpayment of royalties by Apple and lost modem orders for Apple's new iPhones have had a significant impact on Qualcomm's revenue. To offset this impact, Qualcomm has eased its licensing requirements to retain large customers such as Samsung (SSNLF). Qualcomm's CFO, George Davis, told Reuters that the revised licensing benefited customers through lower royalty rates and benefited Qualcomm through higher unit sales.
To reduce the impact of the Apple dispute, Qualcomm has entered into a new partnership with several Chinese handset makers, including Xiaomi, Oppo, Vivo, and OnePlus, which are targeting emerging markets such as India.
Qualcomm's annual revenue
Davis stated that Qualcomm's orders from Apple halved last year as Apple sourced some of its modems from Intel (INTC). Back then, the impact was offset by Chinese handset makers' shift to high-end and premium phones. However, this advantage was not available in fiscal 2018, and because of this, Qualcomm's fiscal 2018 revenue fell 2% YoY to $22.7 billion.
Qualcomm will likely take a severe blow from the loss of Apple orders in the first quarter of fiscal 2019. For this reason, the chip supplier has reported weak guidance. We'll explore this guidance next.